Gothenburg, Sweden, is taking its place among Scandinavia's top-tier food cities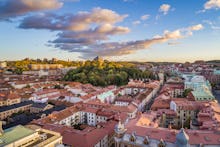 Gothenburg, Sweden, isn't as well-known as Scandinavian capitals like Copenhagen, Denmark; Oslo, Norway; or Stockholm — yet. But Sweden's second-largest city is setting the standard for sustainable dining in Scandinavia, and the food-obsessed are starting to make the pilgrimage for the same innovative, earth-conscious cuisine found in the bigger cities. Another bonus? None of it requires reservation lotteries or a Noma-sized price tag.
Set on Sweden's picturesque western coastline, less than an hour's flight from the major Scandinavian hubs, Gothenburg is a world leader in sustainable food. (I visited in September as a guest of Visit Sweden.) At the new Wine Mechanics in the former meatpacking district, for instance, a stellar biodynamic Riesling made on-site complements local, veg-friendly fare. And Kajodlingen, an organic farm in a disused shipyard, runs a weekly pick-and-pay and vegetable delivery service — by bicycle, of course — with postcard views of the riverfront.
It's not just young chefs and makers defining Gothenburg's food scene. The city's diverse population and immigrant communities make for dining that blurs international boundaries and reflects the city's welcoming ethos. At Vrå restaurant, for example, a Singaporean chef combines Japanese techniques with Swedish terroir to create comfort food like miso soup with apples and blue mussels.
Gothenburg's density of excellent vegetarian and vegan restaurants could rival any other European destination. Even Liseberg, the city's super-popular amusement park, has its own veggie and seafood spot. At Folk, which is part theater, part natural wine bar, part vegetarian restaurant (and occasional queer dance club), expect meatless mains like wax beans with goat cheese, mint, and butter-fried rye crumbs.
Sustainable seafood is also a big deal in Gothenburg, as reflected in food trucks and award-winning restaurants. Find the freshest local catches at Feskekôrka, the "fish church" market so-named for its neo-Gothic façade resembling a house of worship (which it nearly is, for some). Sample more varieties of smoked salmon than you knew even existed, then chow down at Gabriel upstairs, run by an oyster-opening world champion.
Most visitors head to Scandinavia in summer, and Gothenburg does shine on those endlessly sunny days. But if you're not like everyone else, embrace the local concept of gråväderssensualism, or "gray-weather sensuality," and go in spring or fall instead: cheaper flights, smaller crowds, and plenty of mys — which translates roughly to "coziness" and is Sweden's answer to Danish hygge. Go whenever, but go fast, before Gothenburg takes its rightful place in Scandinavia's culinary hall of fame and everyone else catches on, too.
The best fika — Sweden's famous coffee-and-pastry break
Da Matteo roasts its own beyond-fair-trade coffee and bakes the city's tastiest kardemummabullar (cardamom buns). The Magasinsgatan location has a sweet little courtyard surrounded by funky concept boutiques.
Best place to stay
Clarion Hotel Post is more than just a gorgeous neoclassical façade; it's shattering the lame-hotel-food stereotype with hot spots like Norda, overseen by hometown hero Marcus Samuelsson, which pulls from its rooftop gardens to serve what's been voted the world's best brunch. And the drinks at Post Bar come with bragging rights, too — its head bartender won the World Cocktail Championships.
Can't-miss food events
In early March, the Passion för Mat ("Passion for Food") festival will debut its brand-new space, with more than 100 exhibitors plus celebrity-chef demos. Or go in late September for the "lobster premiere," when the summer-long sustainability ban on lobster fishing is lifted and the whole city goes crazy for crustaceans (they put Maine's to shame).
For more of Mic's Best Places to Travel in 2019, explore our map or view the complete list here.