Taipei, Taiwan, has amazing food — and it's Asia's most gay-friendly city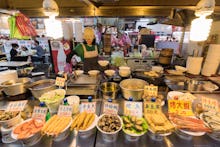 If your idea of vacation planning is obsessively researching every restaurant, bar, coffee shop and food stand, Taipei, Taiwan, belongs on your bucket list. Taiwan's sprawling capital city is home to 2.7 million residents and what feels like just as many must-visit spots for food and drink. The island has a contentious history, with bouts of Dutch, Spanish, Japanese and Chinese presence or rule, and Taipei's rich culinary landscape includes nods to its diverse colonial past as well as the traditions of the indigenous population: fresh Japanese seafood at DOZO Izakaya Bar, superstar soup dumplings at Din Tai Fung, fine-dining French exports like L'Atelier de Joël Robuchon, unbelievable street food like stinky tofu, innovative cocktails from the R&D Cocktail Lab, German beer halls like Buckskin Beerhouse, scenic tea houses atop Maokong mountain — and that barely scratches the surface.
There's never been a better time to visit. In the first Michelin Guide Taipei, the city had 20 restaurants receive stars, with restaurants ranging from the three-star Le Palais, famous for its expertly executed Cantonese fare, to the one-star Taiwanese-meets-Nordic hit Mume. Thirty-six joints made Michelin's Bib Gourmand category, including 10 street food stalls scattered throughout the Taipei's famous night markets, where tourists, locals and everyone in between sample piping-hot black pepper buns and pearl milk tea. You'll also find plenty of excellent shops, hotels and tourist attractions — Taipei 101, once the world's tallest building, is definitely worth braving the crowds for — to fill time between meals.
Another selling point? Taipei is widely considered Asia's most gay-friendly destination. As a younger, more progressive lot comes of age, LGBTQ-geared bars, restaurants, shops are popping up. One of those shops, Gin Gin Books, is purported to be the first LGBTQ bookstore in the Chinese-speaking world. There are also events like the annual Taiwan International Queer Film Festival and the Pride Parade, one of Asia's largest with more than 80,000 revelers in 2017, and powerful advocacy groups like the 20-year-old Taiwan Tongzhi Hotline Association. Taipei's main gayborhood, the Red House district, is full of terraced cafes, trendy bars and outdoor clubs where partiers spill out onto the streets, cocktails in hand. Even the government has gotten in on the action. In 2017, the constitutional court declared the island's long-running ban on gay marriage unconstitutional and ordered the provision removed by May 2019, setting Taiwan up to become the first Asian government to legalize same-sex marriage. A proposal to add a third gender category to official IDs is also making inroads. Taiwan has a long way to go before it's a queer oasis, but in world where upwards of 70 nations criminalize same-sex acts outright, this thriving island is well on its way.
The must-try drink
You might associate fine whiskey with Kentucky, Scotland, Ireland or even Japan, but Taiwan is actually home to one of the world's most celebrated single-malt brands, Kavalan Whisky, which hosted me in Taiwan this past July. The distillery sits just over the mountain in the seaside Yilan City and is worth a day trip, but you can also find a dram in many Taipei bars and restaurants. While all the expressions are top-notch — the Solist Vinho Barrique, a bright, peppery and citrusy number aged entirely in spent wine barrels, is a personal favorite (and named World's Best Single Malt at the 2015 World Whiskies Awards) — cocktail lovers should keep their eyes peeled for the new Distillery Select, a well-balanced, tropical fruit-scented release ideal for mixing.
A hidden-gem attraction
Inside an unassuming Datong District storefront you'll find traditional letterpress master Chang Chien-Kuan's Ri Xing Type Foundry, the Taiwan's last manufacturer of Chinese movable type characters and one of the city's absolute best unsung heros. The store's labyrinth of wooden shelves displays somewhere around 120,000 lead-cast type molds in different fonts and typefaces. If you're into design, history or just ogling cool vintage things, it's like being a kid in a candy store.
Eco-friendly initiatives
The Taiwanese EPA announced it's doubling down on combating marine waste beginning in 2019. It's implementing a national ban on all plastic food- and drink-related items (straws, plastic bags, disposable utensils and disposable cups) by 2030. For such a culinary-focused culture, that initiative should have a massive impact.
For more of Mic's Best Places to Travel in 2019, explore our map or view the complete list here.