LAPD: Michael Avenatti arrested over alleged domestic violence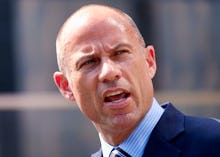 Michael Avenatti, who rose to fame as adult actress Stormy Daniels' attorney, was arrested Wednesday night over alleged domestic violence, according to the Los Angeles Police Department.
The investigation is "ongoing," LAPD said in a tweet.
Details of the incident were not immediately clear Wednesday evening, but he was arrested on felony charges and bail was set at $50,000, according to police.
Avenatti, 47, became a household name earlier this year as the lawyer representing Daniels, the adult actress who says she had an affair with President Donald Trump in 2006.
Daniels and Karen McDougal, a former Playboy model, had apparently been paid hush money ahead of the 2016 election to keep quiet about their alleged affairs with Trump.
Michael Cohen, the president's longtime lawyer and fixer, pleaded guilty in August to two campaign finance violations in connection with the hush agreements, along with six other charges. He implicated Trump in the campaign finance violations, saying he broke the law "in coordination and at the direction of a federal candidate for office."
Though Trump denied wrongdoing, the Wall Street Journal reported this month that he played a "central" role in the hush payments.
Since bursting onto the political scene earlier this year, Avenatti has been a nearly ubiquitous figure in the media, publicly antagonizing both Cohen and Trump, who has slammed him in the past as a "total low-life."
Avenatti has also publicly floated the possibility of running for president in 2020.
He called the alleged domestic violence incident "completely bogus" in a statement, according to CNN.
Nov. 14, 2018, 9:14 p.m. Eastern: This story has been updated.