Today in Trump's America: Judge set to rule on CNN lawsuit against Trump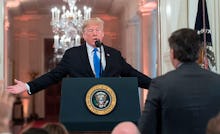 It's Thursday, readers, which means we're one day closer to Friday and one week away from the best holiday of the year, Thanksgiving.
Congress is still in town as they seek to come up with a government funding deal before the current spending package expires on Dec. 7. And new members are also still in town as they go through freshmen orientation.
Here's what's happening in Trump's America:
• Trump appears to be seeking a redo of Veterans Day, which he received considerable flack for as he skipped a service at a military cemetery in Paris (because it was raining) and did not visit Arlington National Cemetery on Monday, when the country observed Veterans Day (it was also raining that day.)
About last night: Lawyer Michael Avenatti arrested
Well, there goes that trial balloon.
Michael Avenatti, the media-seeking lawyer who represents adult film actress Stormy Daniels, was arrested Wednesday evening in Los Angeles on charges of felony domestic violence.
"We can confirm that Michael Avenatti (DOB: 02-16-71) was booked this afternoon on a felony domestic violence charge (273.5 PC)," the Los Angeles Police Department tweeted Wednesday night. "His bail is set at $50,000."
In a statement, Avenatti vehemently denied the allegations.
"I want to be clear: I DID NOT commit domestic violence nor have I ever committed domestic violence," Avenatti tweeted early Thursday morning. "I did not strike any woman nor have I ever. I did not strike my ex-wife in the face nor did I hit anyone else in the face. I am a decent man & I look forward to being exonerated."
Still, the dust-up with the law is problematic for his presidential ambitions.
Avenatti is exploring a bid for president as a Democrat in 2020 and has made "concrete moves" toward a run, according to the Daily Beast. But a Democratic primary electorate — which in 2018 nominated and elected a historic number of female candidates — is unlikely to be open to a male candidate facing accusations of domestic violence.
Today in Trump's America: Judge set to rule on CNN lawsuit
A federal judge presided over a hearing on CNN's lawsuit against the White House, claiming the Trump administration infringed on CNN and its reporter Jim Acosta's First Amendment rights when it revoked Acosta's press credential last week.
The hearing before Judge Timothy J. Kelly, a Trump appointee, lasted for nearly two hours on Wednesday. Kelly seemed to side with the Trump administration's charging argument that Acosta's credential was revoked because he was rude.
"We'e all seen the clip," Kelly said, saying Acosta "continued speaking after his time expired" and "wouldn't give up his microphone," according to CNN — which was reporting from the courtroom.
But CNN's lawyer Theodore Boutrous argued that, "'Rudeness' is really a code word for 'I don't like you being an aggressive reporter'" and said pulling Acosta's credential is "the definition of arbitrariness and capriciousness."
"What are the standards?" Boutrous said at the hearing, according to CNN. "Rudeness is not a standard. If it were, no one could have gone to the press conference."
The lawyer representing the Trump administration, James Burnham, argued Trump didn't need to have a reason to revoke Acosta's credential.
"There doesn't need to be a reason because there's no First Amendment protection and the president has broad discretion," Burnham told Kelly, who asked Burnham to explain why the government's story about why Acosta's credential was revoked has changed.
Later, when the judge asked if the White House could hypothetically tell a reporter "we don't like your reporting, so we're pulling your hard pass," Burnham said, "as a matter of law ... yes."
The judge is set to rule on whether the White House must reinstate Acosta's press credential at 3 p.m.
And the rest...
Pelosi in trouble?: Seventeen House Democrats signed a letter saying they would not vote for Nancy Pelosi for speaker of the House, complicating her bid to retake the gavel. Currently, no Democrat is running against Pelosi for the job, but Democratic Rep. Marcia Fudge of Ohio is weighing a bid, according to Cleveland.com.
Jamal Khashoggi: Saudi Arabia is seeking the death penalty against five suspects who are accused of killing Washington Post journalist and Saudi dissident Jamal Khashoggi in October. Khashoggi died at the Saudi consulate in Istanbul. According to CNN's Jim Sciutto, Saudi Arabia's public prosecutor said Khashoggi was murdered following "a fight and a quarrel" at the consulate, and he said Khashoggi was tied up and given a sedative that ultimately killed him. Khashoggi was later dismembered following the overdose of the sedative.
New GOP leadership: House Republicans elected Kevin McCarthy as House minority leader, a position he'll take when the new Congress is sworn in in January, at which point the GOP will officially be in the House minority.
Prison reform: Trump announced support on Wednesday for a bipartisan prison reform bill currently before Congress. The House already passed the bill, which now must come before the Senate. It's unclear whether Senate Majority Leader Mitch McConnell will put it to a vote before this Congress adjourns and a new Congress is sworn in. Senate Republican leaders are meeting with Trump at the White House on Thursday.