Hype Daily: 'Today' ratings are up since Megyn Kelly left and more entertainment news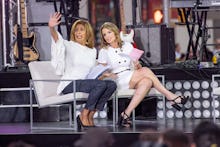 Good morning, readers! Here in New York City we're supposed to get some snow today, so, to quote Groundhog Day, "don't forget your booties 'cause it's cold out there today." Anyway, let's get into the news.
The Today show ratings are up since Megyn Kelly's hasty exit
It turns out booting Megyn Kelly off the show was good business for NBC's morning show Today. According to Variety, "Since Kelly's exit from the third hour of Today, viewership in the key demographic favored by advertisers in that time period is up around 10%" and Today has been beating its rival, Good Morning America, in the overall audience for the past three weeks.
In case you forgot, Megyn Kelly exited the morning show after questioning what was so wrong with white people putting on blackface for Halloween. Since then, NBC has replaced her hour of the show with a rotating crew of anchors from the rest of the program, and apparently it's paid off.
The Country Music Association Awards happened last night
I didn't watch this awards show, but some people probably did! The annual Country Music Association Awards happened last night in Nashville, Tennessee. According to a recap from the Washington Post, Keith Urban won the big prize of entertainer of the year, Kacey Musgraves won album of the year and yodeling Walmart boy, aka Mason Ramsey, made an appearance.
Also, the night was dedicated to the victims of the recent deadly mass shooting at the Borderline Bar & Grill in Thousand Oaks, California, and the show held a moment of silence by way of acknowledgment. If you're curious, check out a full winner's list here.
Fleabag is coming to New York
Fleabag, the one-woman show from comedian and writer Phoebe Waller-Bridge, is coming to New York for an off-Broadway run in 2019, the New York Times reported on Wednesday. The show, which first premiered at the Edinburgh Fringe Festival in 2013, was adapted into a BBC series by the same name. The series is excellent if you haven't seen it yet — American audiences can watch it on Amazon Prime.
Waller-Bridge is also the producer and cowriter of the BBC America thriller Killing Eve. Previews for the off-Broadway show will start in New York on Feb. 28, according to the Times, and the show will open March 7 at the SoHo Playhouse.
The Bachelor mansion survived the wildfires and season 23 now has a premiere date
Here's some good news for Bachelor Nation — the mansion that houses the long-running reality series survived nearby wildfires in California, and season 23 has a date for its two-hour premiere: Jan. 7, 8 p.m. on ABC, according to Deadline. That's right, get ready for another season of The Bachelor, this time starring former NFL player Colton Underwood as the titular bachelor. Get your roses ready, people.
Put this on your radar: Dogs
A new Netflix documentary series called Dogs is all about, you guessed it, dogs. It premieres this Friday on Netflix and, from the trailer, I'd say this one is a tearjerker. According to the Netflix description, "The series tracks six incredible stories from across the globe including Syria, Japan, Costa Rica, Italy and the U.S. — each proving that the unconditional love one feels for their dog is a beautiful universal truth." Yup, I'm probably going to cry.
This has been Hype Daily, Mic's morning entertainment roundup. It's everything you need to catch up on in the entertainment world and what to look forward to today. Want to receive this as a daily email in your inbox? Subscribe here.