Netflix is remaking the classic film 'Rebecca' with Armie Hammer and Lily James in starring roles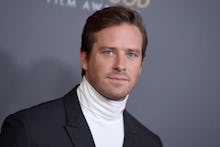 Reboots are all the rage these days, but going all the way back to the 1940s for inspiration is pretty bold. Streaming giant Netflix is working on a new adaptation of Rebecca, the 1938 novel by Daphne du Maurier that was turned into the famous 1940 film adaption from director Alfred Hitchcock, the Hollywood Reporter reported Wednesday.
The adaptation, produced in partnership with Working Title Films, will star Call Me By Your Name's Armie Hammer and Baby Driver's Lily James as the couple at the center of the story.
Rebecca is a dark, psychological thriller about a young woman who marries an older widower, Maxim de Winter, and into to his sprawling estate. There, she is confronted by Mrs. Danvers, the housekeeper, who is obsessed with de Winter's deceased first wife, Rebecca.
The unnamed main character, the second wife, is tormented by Mrs. Danvers, who was fiercely devoted to Rebecca. The plot takes lost of twists and turns, and dark secrets are uncovered. The original novel, by Du Maurier, was noteworthy in its complex portrayal of gender — the ways in which the main character and the memory of Rebecca present competing, different versions of womanhood. Mrs. Danvers' obsession with Rebecca, too, is often seen as sexual or romantic. Du Maurier herself, as the Guardian reported in February, had a complex understanding of her own gender and sexuality — she had love affairs with women and, as a child, frequently dressed up as a boy and used the name "Eric Avon."
The dark tone of Du Maurier's novel made it perfect fodder for Hitchcock, whose film adaptation won the Academy Award for best picture in 1941 and has since become a classic film.
The original New York Times review of the film called it "an altogether brilliant film, haunting, suspenseful, handsome and handsomely played," and praised the starring performances from Laurence Olivier and Joan Fontaine.
That all gives the new Netflix version a lot to live up to. According to the Hollywood Reporter, Ben Wheatley is set to direct the new adaptation from a screenplay written by Jane Goldman, who wrote the Kingsman films. So far, it seems no release date has been set — which gives us all plenty of time to rewatch the 1940 version before the new one comes out.
Nov. 15, 2018, 11:48 a.m.: This story has been updated