Trump administration sanctions 17 Saudis allegedly involved in slaying of Jamal Khashoggi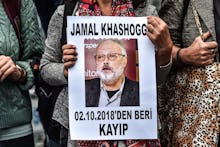 The U.S. Department of Treasury announced Thursday it will impose sanctions on 17 Saudi Arabians it says were involved in the Oct. 2 death of dissident journalist Jamal Khashoggi at the Saudi consulate in Istanbul, freezing their U.S. assets and banning Americans from engaging in financial deals with them.
"The Saudi officials we are sanctioning were involved in the abhorrent killing of Jamal Khashoggi," Treasury Secretary Steven Mnuchin said in a statement. "These individuals who targeted and brutally killed a journalist who resided and worked in the United States must face consequences for their actions."
The sanctioned Saudis include Saud al-Qahtani, a senior Saudi official whom the Treasury Department said was "part of the planning and execution of the operation that led to the killing of Mr. Khashoggi."
Also sanctioned are al-Qahtani's subordinate, Maher Mutreb, and Saudi Consul General Mohammed Alotaibi, as well as 14 other Saudi government officials.
The Treasury Department's statement says the killing of Khashoggi, who contributed to the Washington Post, was "coordinated" by Mutreb — which suggests the killing was premeditated.
Saudi Arabia's public prosecutor, on the other hand, announced Thursday that he is seeking the death penalty against five people he says were part of the killing. He described Khashoggi's death as a result of "a fight and a quarrel" — and not premeditated murder.
Not on the list of sanctioned Saudis is Saudi Crown Prince Mohammed bin Salman, who Turkish officials say directed the killing. Salman has denied having a role in Khashoggi's death, which he described as a "heinous" crime.
Republicans have demanded there be consequences for Khashoggi's death. It's unclear whether these sanctions go far enough for them.