"We are missing his presence already": Activists call for murder charges in Jemel Roberson killing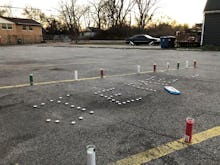 Activists are calling for the state of Illinois to launch an independent investigation into the killing of Jemel Roberson — a black security guard at Manny's Blue Room in Robbins, Illinois, just south of Chicago, who was shot to death outside the bar Sunday by a white police officer.
"We cannot and will not as stake leaders be silent while our sons, brothers, and fathers are being murdered and whether that person wears a badge or not, they must be held accountable," Father Michael Pfleger of St. Sabina Church in Chicago, an anti-gun and anti-racism activist, said in a statement Thursday. "There are consequences for murder."
Roberson, 26, was working security at the south suburban bar early Sunday when he intervened in a shooting and detained one of the suspected shooters outside. He was shot and killed by a police officer from nearby Midlothian, who was responding to the initial shooting.
Roberson's death has become yet another flashpoint in the national conversation about the killings of black Americans by police officers, and religious leaders on Friday are expected to hold a demonstration outside the Midlothian Police Department to demand that Illinois Attorney General Lisa Madigan investigate the shooting and that the white officer involved in the shooting be charged with murder.
The Midlothian officer, a four-year veteran of the force who is currently on paid leave, has not been identified.
"We are demanding that this officer not only be fired, but he should be charged with murder," Pastor Walter Turner of New Spiritual Light Baptist Church said in a statement. "This on-going epidemic of killing young, black men is becoming equivalent to hate crimes."
Illinois State Police are currently investigating the incident, and said in a report Tuesday that Roberson was not wearing anything "readily identifying him as a security guard" and that he was shot after receiving "multiple verbal commands to drop the gun and get on the ground."
But that account has been contradicted by several eyewitnesses, who have said that Roberson's clothing identified him as security. Further, a fellow security guard at Manny's, Dorian Myrickes, told the Associated Press after the ISP statement that he had not heard police ordering Roberson to drop his weapon, for which he had a valid Firearms Owner's Identification Card. A witness told the Chicago Sun-Times Thursday that the Midlothian officer seemed "panicked" at the scene and "never gave [Roberson] a chance" to drop his weapon or get down on the ground.
The family has filed a lawsuit against Midlothian over the killing.
Lee Merritt, a civil rights attorney who has represented other high profile police brutality victims, announced Tuesday that he will represent Roberson's family.
"Midlothian police claimed the life of a truly special young father," Merritt said in a tweet announcing his involvement in the case. "Jemel died a hero."
Midlothian Police Chief Daniel Delaney did not immediately return request for comment Thursday about the calls for an independent investigation, additional information about the officer involved in the shooting and the possibility of body camera footage of the incident.
In a Facebook post Tuesday, Delaney called Roberson a "brave man who was doing his best to end an active shooter situation," and said the Midlothian Police Department is "completely saddened by this tragic incident."
"We give our heartfelt condolences to Jemel, his family and his friends," Delaney wrote. "There are no words that can be expressed as to the sorrow his family is dealing with."
Roberson, a talented musician who aspired to be a police officer himself, had a 9-month-old son, and has another child on the way. A GoFundMe page has been launched to help his family pay for his funeral costs.
Those who knew the 26-year-old Chicago resident describe him as a "great guy" who will be missed by those whose lives he touched.
Pastor Turner said in an email that Roberson was always "willing to help out any church that needed a musician," and that he played often at his New Spiritual Light Baptist Church on the South Side of Chicago.
"He was a true servant of God," Turner said. "I am going to miss his laughter and smile, along [with] watching him play, with the joy of the lord."
"He was kind, and a gentle young man," Lynn Turner, also of New Spiritual Life, added. "We are missing his presence already."
The oldest of four children, Roberson grew up in Chicago's Wicker Park neighborhood on the city's near Northwest Side and graduated in 2010 from Lane Tech High School on the North Side, where he was a member of the school's basketball team. He was in law school, his family said after his death, and was dedicated to his community.
Nick LoGalbo, the school's head basketball coach, said in an email he had known Roberson since he was in 7th grade, coached him on the basketball team and had him as a student in his senior-level English class. He remembers Roberson as a "gentle giant," he said.
"He was passionate, charismatic, outgoing, vibrant and LOUD!" LoGalbo said, recalling Roberson asking him once at the end of one World Literature class if he could serenade a classmate he had a crush on.
"I will certainly miss Jemel," he said.