IndictMint Chip and White Russian: This Mueller-themed ice cream truck is giving away free scoops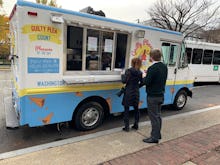 In a heated political climate, it seems justice is best served freezing cold.
On Wednesday, an ice cream truck in Washington D.C. made its mark on Capitol Hill, serving flavors like Fudge the Truth Chocolate, White Russian and IndictMint Chip — with the goal of bringing attention to Robert Mueller's investigation of Trump's Russian ties.
MoveOn.org, an organization devoted to education and advocacy on national issues, is responsible for the creation of Guilty Pleasures (a play on the phrase "guilty pleas"), an ice cream truck intended to highlight some of Mueller's efforts so far.
"Trump has been making a lot of noise about his 'witch hunt', but the fact is the Mueller investigation is working," David Sievers, a campaign director at MoveOn.org, said over the phone. "They're finding crimes and that fact needs to get out there. Numbers are one thing, but people's eyes glaze over when you hit them with facts. We needed to do something new to break through the noise," he added.
Mueller has indicted or received guilty pleas from at least 32 individuals, mainly associated with Russian ties to the 2016 election. These include Paul Manafort, Trump's former campaign chairman, who pleaded guilty to two counts of conspiracy to defraud the U.S. and conspiracy to obstruct justice. Rick Gates also admitted to committing crimes with Manafort, including hiding foreign accounts from the government and tax evasion.
In its first few days, the Guilty Pleasures truck has drawn attention from D.C. crowds for its rotating, investigation-themed flavors which include MuellerBerry and a Ricky Road sorbet, named after Gates. All scoops are free, served in either cups or "Cohens."
For a week, the truck is scheduled to stop at a number of D.C. hotspots, including the Russian Embassy, Watergate Hotel, the Trump International Hotel and Department of Justice.
And as for a stop at the White House, Guilty Pleasures may have to be a little more strategic.
"You can't park a food truck in front of [the White House]. But you can [park] in squares where various folks who work in policy might be eating their lunch," Sievers said. "We want to make sure the staff members who are deciding how to encourage their bosses in the Senate know all the information and aren't just hearing Trump's lines."
If you like political messaging from your ice cream, here are some other tasty stories from the week
On Tuesday, Trump made a dig at French wine. "The problem is that France makes it very hard for the U.S. to sell its wines into France, and charges big Tariffs, whereas the U.S. makes it easy for French wines, and charges very small Tariffs," he tweeted.
A French tariff on wine does not technically exist. The European Union sets tariffs for the wine-making country, a French exporter group told AP, so France isn't wholly responsible. And wine tariffs between the U.S. and E.U haven't changed in decades either. Sacrebleu!
After a defeat by Texas Senator Ted Cruz, Beto O'Rourke has since spent his post-campaign days making scones, eating guacamole while driving and cutting steak to the collective pleasure of many on Twitter.
In one video, he can be seen marinating his steak with soy, lime, ginger and garlic and licking his fingers.
"I was a vegetarian for 10 years. From when I was 12 years old to five minutes ago, after Beto posted a video of him cutting flank steak," one user on Twitter wrote.