Faith leaders demand independent investigation into Jemel Roberson killing: "We want answers"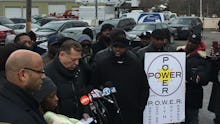 Friends, family and faith leaders on Friday called for an independent investigation and charges in the police killing of black security guard Jemel Roberson outside a Chicago-area bar Sunday.
"We want answers; we want results," Pastor LeAundre Hill of Purposed Church in Chicago said in a press conference outside the Midlothian, Illinois, police department Friday. "And we want them now."
Roberson, 26, was killed by a Midlothian police officer Sunday at Manny's Blue Room in Robbins, Illinois, the bar where he worked as a security guard. Roberson had helped stop an active shooting at the south suburban bar that evening and had detained one of the suspects outside. When police arrived on the scene, a Midlothian, Illinois, officer shot him dead.
The Midlothian Police Department has characterized the killing as a mistake and likened it to friendly fire, but Roberson's family and activists say the shooting was racially motivated. The family has filed a lawsuit seeking over $1 million in damages, and activists are calling for murder charges to be brought against the officer involved, who has not yet been named.
"It was not 'blue on blue' crime," Father Michael Pfleger of St. Sabina Church in Chicago said Friday morning. "It was 'blue on black' crime."
Police have yet to release the name of the white Midlothian officer, but he has been described as a four-year veteran of the force. He is currently on paid leave while the Illinois State Police conduct an investigation into the shooting.
Activists say that probe isn't enough and called for an independent investigation by Cook County State's Attorney Kim Foxx and Attorney General Lisa Madigan.
"We have to have a cure for this epidemic," Pastor Walter Turner of the New Spiritual Light Baptist Church in Chicago said at the press conference. "Something has to be done."
Roberson, who had a nine-month-old child and another child on the way, was a musician who played at several churches across Chicago and aspired to be a police officer. Those who knew him describe him as a smart, "larger than life" man who helped everyone around him.
"He kept you uplifted," Deondre Sanders, a friend who knew Roberson for seven years, said in an interview Friday. "He was a protector."
Lee Merritt, the civil rights attorney representing Roberson's heirs, said his team is conducting a parallel investigation into the shooting. According to Merritt — who has represented families of other high profile victims of police brutality, including Botham Jean in Texas — several witnesses he's spoken with have already contradicted the police account.
In an interview outside the Midlothian police station, Merritt said that he had thought the Jean case — in which a Dallas police officer shot and killed the unarmed black man in his own home — was "rock bottom" for police misconduct against people of color in America.
But, he said, the case of Roberson is even more outrageous.
"They killed a hero," Merritt said. "It has blown me away."