Chadwick Boseman posts musical tribute to Stan Lee: "That's how I'm sending you to the other side"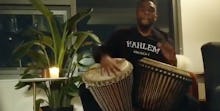 Actor Chadwick Boseman, who starred as the titular superhero in 2018's Black Panther, posted a musical tribute Thursday on Twitter to late Marvel comics legend Stan Lee.
"I know how much you loved Joan," Boseman wrote in a caption to the tweet, referring to Lee's wife, Joan Lee, who died in 2017. "The only way we should send you home is to celebrate."
The video, which features Boseman drumming, ends with him addressing Lee directly.
"Stan, that's for you," Boseman says in the video. "That's how I'm sending you to the other side. That's how they will receive you on the other. I love you, man."
Lee, who died Monday at the age of 95, got his start in the comics industry in 1939. The son of Jewish immigrants, Lee created or co-created countless iconic superhero characters — including Black Panther, the first black superhero, which he co-created with writer-artist Jack Kirby in 1966.
According to reports, Lee's work was deeply influenced by the Civil Rights movement, and he wrote explicitly about racism as a social evil in a 1968 column from his "Stan's Soapbox" series.
"Bigotry and racism are among the deadliest social ills plaguing the world today," Lee wrote. "Sooner or later, if man is ever to be worthy of his destiny, we must fill our hearts with tolerance."
He repeated similar views in a YouTube message to fans in 2017.
"Marvel has always been and always will be a reflection of the world right outside our window," Lee said. "That world may change and evolve, but the one thing that will never change is the way we tell our stories of heroism ... Those stories have room for everyone, regardless of their race, gender or color of their skin. The only things we don't have room for are hatred, intolerance and bigotry."