Mic Daily: Trump administration sanctions Saudis over Jamal Khashoggi killing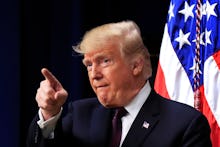 Happy Thursday, readers. Here are the five top stories out of Mic today.
"We are missing his presence already": Activists call for murder charges in Jemel Roberson killing
Jemel Roberson, 26, was working security at a bar in Illinois on Sunday when he intervened in a shooting and detained one of the suspects. A police officer arrived shortly thereafter and shot Roberson to death. Read more.
Trump administration sanctions 17 Saudis allegedly involved in Jamal Khashoggi slaying
The U.S. Department of Treasury is moving to punish those it believes responsible for the death of dissident journalist Jamal Khashoggi. Read more.
Beyoncé buys Ivy Park stake from Topshop owner accused of sexual harassment and racial abuse
Beyoncé has snatched a majority stake in the fashion brand Ivy Park from the hands of British billionaire Philip Green. Beyoncé may not yet run the world (girls), but she's getting close. Read more.
Alexandria Ocasio-Cortez, Barack Obama and 10 other politicians who worked at restaurants
An inescapable part of the narrative surrounding Alexandria Ocasio-Cortez — the youngest woman ever elected to Congress — is that she was working as a bartender just months before the midterm elections. But she's far from the only politician who's been open about their past in the service industry. Read more.
Netflix is remaking the classic film Rebecca with Armie Hammer and Lily James in starring roles
Alfred Hitchcock's famous, best-picture-winning 1940 film Rebecca was already an adaptation of a novel — and now, it's getting adapted yet again. This time around, it'll star the unsettlingly tall Armie Hammer. Read more.
Mic Daily is Mic's newsletter that cuts through the noise and lands in your inbox every weekday. We carefully curate each edition to send you a cross section of our most vital stories of the day.