Bologna, Italy, is home to the Disney World of food and countless other culinary gems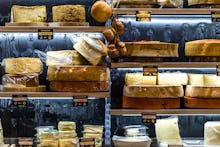 Italy welcomed more than 58 million travelers in 2017, making it the fifth-most-visited country on the planet. The vast majority of those tourists will flock toward Venice's spiraled canals, the relics of Rome or the vineyards of Tuscany, all the while overlooking the many marvels of Bologna. Don't make the same mistake.
The capital of the Emilia-Romagna region carries more than 2,000 years of history along its archway-lined streets. Its architectural splendor includes the Portico of San Luca — a covered pathway spanning 2 miles from the city center to a domed hilltop sanctuary — and a series of 20 medieval towers. The iconic Garisenda leans at an angle of 4 degrees, just slightly more askew than the far more famous Tower of Pisa, located roughly 100 miles to the northeast.
Between this parade of sights, the city is a trove of culinary delights. Some consider Bologna the birthplace of tortellini pasta, as well as tagliatelle alla Bolognese — a flat egg noodle covered in a rich ragù of ground pork, beef and garlic. You can enjoy excellent renditions at the cafes and trattorias populating the arcades and plazas of the vibrant downtown corridor. If you want something a bit soupier, opt for a bowl of passatelli, a traditional combination of breadcrumbs, parmesan and rolled strands of dough simmered in a light broth.
You can find all these specialties under one roof at the equivalent of Disney World for Italian food: FICO Eataly World. Opened in 2017, FICO Eataly World features interactive tours, educational seminars and 700 employees dishing out deliciousness across two dozen dining venues.
Italians love to sip on amaro after a filling meal, and Bologna is home to the country's most consumed brand within the category: Amaro Montenegro. "Amaro plays an important role in Italy's gastronomic traditions," Amaro's master herbalist Matteo Bonoli said in an email interview. "It can be found behind nearly every bar and restaurant, in addition to most homes throughout the country. In Italy, it is a symbol of friendship and togetherness."
The region has become more accessible than ever, with direct flights available out of the U.S. for the first time. In April, American Airlines will launch direct flights from Philadelphia four times a week.
Must-visit restaurant
For an intimate and incomparably authentic Bolognese dining experience, make room for Sette Tavoli. Italian for "seven table," this family-run restaurant serves its housemade pasta to only a select few diners each night. Count yourself lucky to be among them.
Insider intel
Mopeds are an easy and surprisingly affordable way to navigate the city. Hop on a Vespa and ascend into the surrounding hillscape for unparalleled vistas of Emilia-Romagna.
The best place to shop
Via Drapperie is Bologna's main market street, featuring all sorts of local vendors peddling their respective wears and tears. Here you'll find Antica Aguzzeria del Cavallo, an expansive cutlery dating back to 1783. If you fancy yourself an aspiring chef, this is the place to hunt down tools of the trade you'd be hard-pressed to find elsewhere. The garganelli comb, for example, is a wooden instrument used to roll small squares of dough into pasta — a practical and affordable take-home token of the region.
For more of Mic's Best Places to Travel in 2019, explore our map or view the complete list here.