Islay — aka Whisky Island — is where all of your scotch dreams come true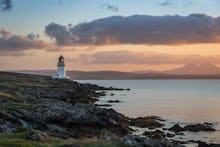 Just 20 miles off the coast of southwestern Scotland, Islay is a landscape of mesmerizing beauty. The rolling greenery, pounding surf and sea breeze form the ideal setting for the area's main industry: whisky making. There are currently eight operational distilleries on the island that produce their own single malt scotch. The iconic rich and smoky liquids most commonly associated with the category are all birthed here, lending the region its nickname: Whisky Island.
You don't need to be an alcohol aficionado to find great comfort here. The newly minted Machrie Hotel is Islay's first luxury hotel, with five-star amenities on an 18-hole golf course along seven miles of pristine coastline.
A system of hiking trails throughout the island is as well-maintained as it is remote; with a population of 3,200 year-round inhabitants, you're likely to see more sheep and fuzzy-browed highland cattle than you will other travelers. Venture to Beinn Mhòr, a mounded outcropping on the southern peninsula of Oa, and you'll arrive at a cobblestone obelisk known as the American Monument. It commemorates the 630 servicemen that were lost here during the first World War, in turbulent waters 430 feet below.
There are more man-made attractions to appreciate back in what's considered a big town here — Bowmore (population 862). This is home of the Kilarrow Parish Church, opened in 1769 with its iconic circular design. Just up the road is the Islay Woolen Mill, famous for its wide range of well-woven plaid tartans. Layer up: Islay is often cold and damp, sometimes showcasing all four seasons in a single day.
But the challenging climate is forever beaten back by the endearing warmth of its locals. "The people are so welcoming and friendly and so proud of their island," Gillian Macdonald, head of whisky creation at Ardbeg and Glenmorangie, said in a text. She recommends a summertime visit when "you could mistake some of the golden sands and crystal clear waters for some tropical paradise."
If you're making a pilgrimage primarily for the whisky, come during the last weekend in May for the annual Fèis Ìle. Book your stay at least six months in advance — this celebration of all things scotch attracts visitors from across the globe, as distilleries welcome revelers with live music and exclusive releases. "Islay has a charm that captivates everyone who visits," Macdonald said. "Even if you're not there to drink whisky, the way of life will leave you feeling like you won't want to leave."
The must-try dish
Haggis, neeps (turnips) and tatties (potatoes), from the Old Kiln Cafe at the Ardbeg Distillery. It's the most classic of Scottish culinary combinations, served here under a creamy pepper sauce fashioned with the house single malt — paired, of course, with a dram of the whisky itself.
Insider intel
"Islay always has amazing sunsets and endless skies — assuming it's not raining," Macdonald said. "It stays relatively mild here compared to the mainland, because of the Gulf Stream." So really there's no bad time to visit. Just make sure to book a rental car at the Islay airport, as public transit is scant across the island.
The souvenir to buy
An impossibly soft, hand-woven scarf from the Islay Woolen Mill. The scarves are available online, but they're cheaper at the store — and there's a bigger variety of options so you can pick the specific tartan combination that suits your fancy.
For more of Mic's Best Places to Travel in 2019, explore our map or view the complete list here.