Telluride, Colorado, is for adventure seekers who want to spend all day in the great outdoors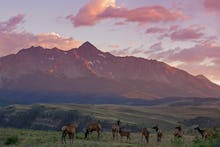 Even by the Rocky Mountain's lofty standards, Telluride, Colorado, is a peerless spectacle of soaring wonder. In winter, it offers some of the country's best terrain for powder junkies, including world-class downhill and cross-country skiing. Throughout the warmer months, this quaint town of some 2,300 year-round residents opens itself up to the world with a weekly procession of festivals and celebrations — a cultural epicenter rivaling hubs with 100 times the population. In many ways, Telluride still feels like a Victorian-era mining town, though it's very much a modern city.
Located against the edge of a steep box canyon, Telluride's dramatic backdrop also stands as a natural boundary, sheltering it from tourist overload. Its tiny local runway is open only to private aviation, meaning you'll have to fly into Montrose Regional Airport — a scenic 67-mile drive to the north.
Telluride has some of the best hiking trails in America. A short distance outside town is the Rock of Ages trailhead, where you can take an 11-mile round-trip hike to the top of Wilson Peak and back. Nicknamed "Coors Peak" (it's the very same crag made famous on cans and bottles of the popular beer), this is one of the more manageable 14ers — mountains with at least 14,000 feet of elevation — in the country. Access is even easier if you come in the summertime and book a stay within the charming confines of the Hotel Telluride. The boutique property at the edge of downtown partners with a local outfitter to provide a packaged deal to the top, including guides, a gourmet lunch and a post-hike massage.
You'll be back in the afternoon with plenty of time to soak in the mountain light phenomenon that takes place around dusk. Marvel at the pink and orange hues radiating off the San Juan Mountains. In the distance, Bridal Veil Falls — Colorado's tallest free-falling waterfall — flows alongside the edge of the Box Canyon. It looks even better when paired alongside a craft cocktail and truffle fries on the rooftop bar of the New Sheridan Hotel.
There are plenty of places to indulge in après-ski (or après-hike) drinks along the main drag of Colorado Avenue. The newest example just arrived in the form of a hidden "speakeasy" dining experience known as The Tunnel. The chef-prepared tasting menu, with cocktail or wine pairings, is available to just a dozen diners a night. To gain entry, you'll need to fetch a copy of the Telluride Daily Planet and flip to the classified sections for a hidden password.
How to give back
The Ah Haa School is a center for arts and culture, offering workshops for artists of all ages. It benefits locals and visitors alike, who can learn how to craft ceramic pottery or paint at this charitable organization.
A hidden-gem attraction
Both the Telluride Film Festival (at the end of August), and the Bluegrass Festival (in mid-June) generate a ton of international buzz. But few folks outside southwest Colorado know of Blues and Brews. Held annually in the middle of September, when the weather's still warm, the celebration brings world-class music to the town, along with over 75 acclaimed microbrews from near and wide.
Eco-friendly initiatives
Telluride maintains a year-round, free gondola that exists as North America's only such form of public transit. It connects the mid-mountain ski village with downtown. Operating from 6:30 a.m. until midnight, seven days a week, it improves air quality by keeping cars off the road and is kept running in part by wind power.
For more of Mic's Best Places to Travel in 2019, explore our map or view the complete list here.