I expected more from Blac Chyna's rap debut — yes, seriously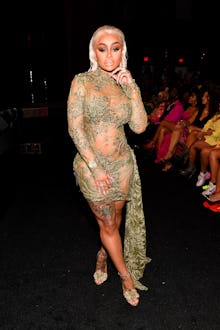 I have been trying to express my disappointment with Blac Chyna the rapper following the leak of her track "Deserve." Every time I bring it up to people, I'm met with sentiments best summed up as "Were you honestly expecting better?"
Actually, I was. In September 2017, TMZ reported her debut album was "following a recipe for success." She would be linked with established artists like Yo Gotti, Tory Lanez, Jeremih and angelic-voice rapper Swae Lee. The songs would be produced by the likes of Mally Mall, who incidentally discovered rapper Tyga, who may still need to sit in timeout for dating Kylie Jenner as a teenager but nonetheless continues to score hits. Now, I was concerned when it was reported that Chyna's album would feature "poetry music" and "traditional singing" because I don't know what the first thing means and I assume she sounds like 2002 Ashanti with strep throat, but I had hope all the same.
If you give me a great beat, a hot feature, and a few slick lines, I am going to probably love the song — especially if I'm heading to bar or to a boozy brunch. I love a thot bop, and there were hints that I was going to get many of them from Blac Chyna. This time last year, TMZ posted a clip of a hook on one of her tracks featuring her rapping "pop that pussy like a pistol, yeah!" Perfect, I thought. Stripper music should be made by more actual strippers.
And then came "Deserve." Some folks do apparently like this song, but when I skimmed Al Gore's internet for reactions, most of them aligned with me on the "that ain't it, sis" verdict.
It's not that I ever assumed Blac Chyna was going to be as skillful as a Nicki Minaj, Azealia Banks or Megan Thee Stallion. But, I don't figure that Chyna would be somewhere in the family of Cardi B, Mariahlynn (she surprisingly has a few singles that slap) and say, No Limit's Mercedes, or Tonya and Tremethia Jupiter, the women who made up the grossly underappreciated rap duo The Ghetto Twiinz.
If "Deserve" is any indication of where Blac Chyna the artiste is going, I fear her rap career is going to end up like her homegirl Amber Rose's musical ambitions. Amber Rose is a lovely woman, but with songs like "Loaded," she was giving us a cross between Kesha and MC Skat Kat. We could have done better, Amber, and I don't want to see Chyna make the same mistakes.
I usually hate laptop leadheads, but if I could for a second do some quick A&R, here are a few tips: Chyna should be recording tracks like The Ghetto Twiinz's "Responsibility" aimed at her baby daddies. Everything else should be giving me "Trina if Trina was raised in southeast D.C." Call producer Metro Boomin. Hit up production team Beats by the Pound and get those vintage works everyone is sampling directly from the source.
Look, I hate to be harsh, but this is a tough love session. Chyna doesn't have the reality show anymore nor the direct Kardashian linkage that led to that short-lived series. I assume her "for bookings" e-mail still pops, but in terms of flipping this fame into hustles that cement one's status, becoming a rapper was the obvious next and greatest scam. And no shade, it's probably the last one really afforded to her unless Chyna goes off and does Redbox hood romantic comedies and those stage plays like Mama I Want To Trap. There's nothing wrong with that, but Snoop Dogg waited a while before touring with Redemption of a Dog, you know?
In sum, do better, Angela Renée White. Others may not, but I kind of believe in you.