Today in Trump's America: Dems continue to pick up House seats, Florida Senate goes to hand recount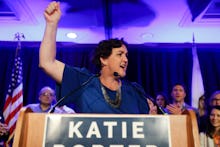 We made it to Friday, readers. Hopefully those of you on the East Coast got home safe and sound after Thursday's unexpectedly strong snowstorm.
Many people were stranded in traffic on treacherous roads, including former New Jersey Gov. Chris Christie, who complained on Twitter about being stuck in traffic for hours thanks to the snow. But if there is any one human being on this Earth who has no right to complain about traffic, it's Chris Christie.
Here's what's happening in Trump's America:
• Trump's day begins at 11:30 a.m., when he will sign the Cybersecurity and Infrastructure Security Agency Act in a closed-door ceremony. The bill appears to rename a division within the Department of Homeland Security.
About last night: Democrats pick up two more House seats, Florida Senate goes to hand recount
Democrats picked up two more House seats on Thursday, bringing the total number of House seats Democrats gained in the 2018 midterm elections to 36 — with a handful of races that remain to be called.
In Maine, Democrat Jared Golden was declared the winner over GOP Rep. Bruce Poliquin. Golden won on the second round of ballots as part of Maine's ranked-choice voting system in which voters designate their second and third choices, votes that are factored in if no candidate receives at least 50% of the vote in the first round of balloting. Poliquin led in the first round of ballots, but did not meet the 50% threshold. When second choices were factored in, Golden came out victorious.
In California, Democrat Katie Porter — an acolyte of Massachusetts Sen. Elizabeth Warren — defeated Republican Rep. Mimi Walters in California's Orange County-based 45th District. Walters led on election night and was even considering running for a House GOP leadership role. But as vote-by-mail and provisional ballots were calculated, Walters' lead quickly diminished, and ultimately, she was defeated for re-election.
Meanwhile, Democratic nominee Gil Cisneros also took the lead Thursday night in California's 39th District for the first time. The race remains to be called, but Cisneros leads by 941 votes and is on track for victory. A Cisneros win would complete Democrats' total wipeout of Republicans in Orange County, California, and would leave Republicans with just eight of California's 53 House seats.
As for the Senate, a machine recount in Florida did not fundamentally change the results in the state's gubernatorial or Senate contests.
Ron DeSantis still has a more than 30,000-vote lead over Democrat Andrew Gillum. The margin is outside of hand recount territory, meaning DeSantis is likely to remain the victor in that contest.
The Senate race between Republican Rick Scott and Democratic Sen. Bill Nelson will now go to a hand recount. However barring a serious machine error in tabulating votes, Scott is expected to come out victorious. If Scott is declared the winner, Republicans will have netted two Senate seats — a dismal performance given the incredibly favorable Senate map the GOP had in 2018.
Today in Trump's America: Will it be a Mueller Friday?
Special counsel Robert Mueller and his team have been quiet for months, going dark before the midterm elections.
However, behind the scenes, Mueller and his team have been busy — and it's possible we could see some movement on Friday, which is when the grand jury convened in the investigation appears to meet.
Randy Credico, a right-wing conspiracy theorist and associate of Republican "dirty trickster" Roger Stone, said on Monday he expects to be indicted as part of Mueller's probe.
Stone is also caught up in Mueller's probe.
Even more, an inadvertent court filing shows that WikiLeaks founder Julian Assange has been charged. The charging documents remain under seal, and so it's currently unclear what the charges relate to — whether it be the 2010 release of classified documents or Assange's role in releasing stolen emails in the 2016 election.
And Trump, for his part, once again ramped up his Twitter attacks on Mueller's investigation after tamping down his criticisms for a few months.
"Before this morning, Trump had only tweeted once about Mueller since mid-September," NBC News' Kyle Griffin tweeted on Thursday. "He's now tweeted today about Mueller and the investigation 3 times in 4 separate tweets."
Trump's Twitter attacks against Mueller were filled with bizarre accusations and some blatant lies.
For example, Trump claimed — without any evidence — Mueller and his team has "have found no collusion and have gone absolutely nuts."
"They are screaming and shouting at people, horribly threatening them to come up with the answers they want," Trump tweeted, an accusation no one knows is true and Trump would only know if he had been communicating with people who had been interviewed by Mueller's team.
Trump also said Mueller is "conflicted" because he "worked for Obama for 8 years." That is absolutely false, Mueller worked for eight years under former President George W. Bush, and only worked in former President Barack Obama's administration until September 2013. And all of that is besides the point, as Mueller is a professional who was given a two-year extension by the Senate back in 2011 by a unanimous vote of 100-0.
And the rest...
She said the quiet part out loud: GOP Sen. Cindy Hyde-Smith finds herself in hot water for the second time in as many weeks after she was caught on video supporting voter suppression against Democrats.
"There's a lot of liberal folks in those other schools who that maybe we don't want to vote," Hyde-Smith is caught saying at a campaign event, as she faces a runoff against Democrat Mike Espy. "Maybe we want to make it just a little more difficult. And I think that's a great idea." It's unclear whether Hyde-Smith was referring to historically black colleges and universities.
This comes after Hyde-Smith was caught making a joke about attending a "public hanging." Hyde-Smith is running against a black Democrat in Mississippi, which has an ugly history of lynchings against African-Americans.