Hype Daily: Model and actress Kim Porter dead at 47 and more entertainment news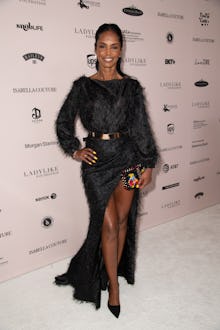 TGIF folks, we made it to the end of another week. If you're in the Northeast, like I am, enjoy that snow-sleet-slush mix we got last night. Anyway, let's get to our last entertainment news roundup before the weekend.
Model and actor Kim Porter is dead at the age of 47
Model and actor Kim Porter was found dead in her home in the Toluca Lake neighborhood of Los Angeles on Thursday, CNN reported. She was 47. Porter was a mother of four — three of those children were from her more than 10-year relationship with rapper Sean Combs, aka Diddy. A representative for Combs confirmed Porter's death in a statement to CNN, saying, "Sadly, I can confirm the passing of Kim Porter. I ask that you give the families privacy at this time."
Celebs like Drake, Nicki Minaj, Viola Davis, Gabrielle Union and Rihanna posted messages of mourning, reacting to Porter's death on Thursday. "We lost a real one today, beautiful inside and out," Rihanna wrote on Instagram. "So many will be affected by this, some won't even know why … but the whole world was graced by the vibrance in your spirit. My deepest condolences to the ones that were blessed enough to know, meet, and love her! Such a special soul man! This don't even feel real! May God comfort and protect her children and loved ones! RIP."
Amy Schumer had to cancel a show because of nausea
Comedian Amy Schumer, who recently announced her pregnancy with husband Chris Fischer, had to cancel a stand-up show in Dallas this week because of her severe nausea, the Associated Press reported.
"Texas I am so deeply sorry,' Schumer wrote in an Instagram post on Thursday. "I have been really looking forward to these shows. I have to reschedule. I am in the hospital. I'm fine. Baby's fine but everyone who says the 2nd trimester is better is not telling the full story. I've been even more ill this trimester. I have hyperemesis and it blows. Very lucky to be pregnant but this is some bullshit! Sending so much love to the doctors and nurses taking great care of me and Tati! They are cool as hell! And Texas I am really really sorry and I'll be out there as soon as I'm better."
Hyperemesis gravidarum is a pregnancy complication that causes severe vomiting and nausea. Duchess Kate Middleton famously had it for all three of her pregnancies, so you're in royal company, Amy.
The trailer for the Christmas Prince sequel is here
The sequel to last year's delightfully cheesy Netflix holiday rom-com A Christmas Prince is coming out this holiday season, and Netflix just dropped the official trailer on Thursday.
The sequel is, of course, called A Christmas Prince: The Royal Wedding, and it seems like our intrepid heroine will have to choose between her journalism career and her new life as the wife-to-be of the Aldovian king, her beloved Richard. I sort of have a feeling things will work out for those two. Check out the trailer here.
A24 has made a deal to make movies with Apple
Tech giant Apple and production company A24 have signed a multi-year deal to make movies together as Apple works to increase its slate of original content, CNBC reported on Thursday. A24 is the production company behind award season favorites like Room, Moonlight and Lady Bird. According to CNBC, the details of the deal weren't released, but we can guess there's a hefty sum involved.
Put this on your radar: Escape at Dannemora
Showtime's new miniseries Escape at Dannemora premieres on Sunday. The series is based on the real story of a 2015 prison escape at the Clinton Correctional Facility in Dannemora, New York, and it stars Benicio Del Toro and Paul Dano as the escaping men and Patricia Arquette as the prison employee who helps them break free.
So far the series, directed by Ben Stiller, has gotten lukewarm reviews — the New York Times called it a "not very thrilling thriller" but Rolling Stone called it "mostly interesting," so there you go! Check out a trailer here.
This has been Hype Daily, Mic's morning entertainment roundup. It's everything you need to catch up on in the entertainment world and what to look forward to today. Want to receive this as a daily email in your inbox? Subscribe here.