While You Weren't Looking: 5 stories from the Trump administration that aren't about counting votes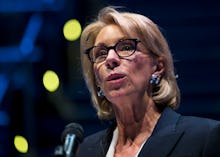 As the nation was rapt by continued ballot counting in a number of outstanding contests from the midterm elections, the Trump administration continued to hum along, crafting new regulations and nixing others.
Now that Democrats have retaken control of the House — which comes with the power to conduct oversight of government agencies — these Cabinet departments will have more eyes watching their every move.
Here's what the Trump administration was up to this week:
EPA may impose stricter pollution standards for trucks
In a move that surprised environmentalists, the Environmental Protection Agency announced on Tuesday that it will look to impose tighter emissions standards on heavy-duty trucks, the Washington Post reported.
"This initiative will help modernize heavy-duty truck engines, improving their efficiency and providing cleaner air for all Americans," acting EPA administrator Andrew Wheeler told reporters in a conference call, according to the Washington Post. "We are under no regulatory or court order requirements to launch this initiative. We are doing it because it's good for the environment."
The announcement earned praise from environmental groups, which for the most part have criticized President Donald Trump's EPA for being too friendly to polluters.
"This is a positive step and may be the first thing this EPA has done that will actually reduce air pollution," Paul Billings, senior vice president for public policy at the American Lung Association, told the Washington Post.
Transportation Department launches "in-flight sexual misconduct" task force
Transportation Secretary Elaine Chao announced on Thursday the Department of Transportation will launch the National In-Flight Sexual Misconduct Task Force to recommend new "best practices relating to training, reporting and data collection regarding incidents of sexual misconduct by passengers onboard commercial aircraft."
The decision comes in the wake of the #MeToo movement, which has led women to report incidents of sexual assault, including on commercial airplanes.
Making the situation awkward, however, is the fact Trump is accused of inappropriately touching a woman on an airplane in the 1980s. Jessica Leeds came forward during the 2016 campaign to make the accusation against Trump, saying he grabbed her breasts and tried to put his hands up her skirt. Trump denies the allegation.
Defense Secretary Jim Mattis tells troops at the border their goal is "to be determined"
Defense Secretary Jim Mattis headed to the U.S.-Mexico border on Wednesday, where he faced tough questions from troops who were stationed there to help guard against the migrant caravan Trump railed against in the lead-up to the midterm elections.
When asked by one service member to define the goal of their mission, Mattis was unable to fully answer.
"Short term, get the obstacles in," Mattis said, according to the New York Times, a reference to the razor wire fencing the troops had been installing along the border.
"Long term, it is somewhat to be determined," Mattis added.
Trump has come under fire for dispatching thousands of troops to the border, which many say is an overreaction to the caravan.
The deployment of the troops could cost the federal government hundreds of millions of dollars for what one critic called a "political stunt."
Betsy DeVos announces Title IX changes that protect those accused of sexual assault
Education Secretary Betsy DeVos released new Title IX rules on Friday that detail how schools that get federal funding must handle sexual assault and sexual harassment allegations.
The new rules not only give more rights to those who are accused of sexual assault or sexual harassment — requiring the accused have the right to counsel and prohibiting schools from imposing any "burden" on students who are accused — but they also lower schools' liability for responding to allegations.
Incidents of sexual assault must take place as part of that school's programs or activities in order for the school to have to respond to allegations.
DeVos also created a stricter standard for what constitutes as sexual harassment.
Under former President Barack Obama's administration, sexual harassment was defined as "unwelcome conduct of a sexual nature."
But under DeVos' changes, sexual harassment is now defined as "unwelcome conduct on the basis of sex that is so severe, pervasive and objectively offensive that it denies a person access to the school's education program or activity."
The rules will go into effect after a comment period.
In a statement, DeVos said the changes will "protect all students."
"Throughout this process, my focus was, is, and always will be on ensuring that every student can learn in a safe and nurturing environment," DeVos said in a statement posted to Twitter. "That starts with having clear policies and fair processes that every student can rely on."
But the proposed changes have been condemned by civil rights groups, such as the ACLU.
"Today Secretary DeVos proposed a rule that would tip the scales against those who raise their voices," the ACLU tweeted. "We strongly oppose it."
EPA official arrested on felony ethics charges
A top EPA official was arrested on Thursday in Alabama, facing criminal ethics charges stemming from an alleged scheme to block a coal company from having to pay for toxic waste cleanup costs, the Associated Press reported.
The official, Trey Glenn, serves as the head of the EPA's Southeast regional office in Atlanta. He was appointed to the role by Trump in August 2017.
Democrats say Glenn's arrest is just the latest form of corruption within the Trump administration.
"Trey Glenn should have never made it through any serious vetting process," Rep. Frank Pallone (D-N.J.), who is currently the ranking member on the House Energy and Commerce Committee, told the AP. "Scott Pruitt may be gone, but it's clear the culture of corruption remains."