This Week in Food and Travel: Alexandria Ocasio-Cortez spent most of her campaign waiting tables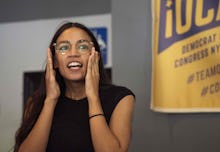 In a recent interview with Bon Appétit, Alexandria Ocasio-Cortez discussed how she spent much of her early campaign days slinging cocktails and waiting tables at a Mexican restaurant in downtown New York.
Senator Elizabeth Warren also spent her teenage days waiting tables and Barack Obama has been known to scoop an ice cream or two at a Baskin Robbins. We decided to take a look at a few politicians who got their start in the restaurant world — and how it's informed some of their political views to this day.
In other food news, Mic looked at a controversial documentary about families who have switched to all-organic, GMO-free diets, and how they think the diet has impacted their health. We also dug into refrigerators around the world to see what the contents say about food waste. Also, we dined at some of the best restaurants on the tropical paradise of Maui to find out what defines its diverse and eclectic food scene.
Flipping burgers, waiting tables, even losing a finger — here are the politicians who previously worked in food service.
The film focuses on several individuals who've benefited from a diet change, including those with autism, chronic pain and infertility issues.
A new survey reveals what kinds of items they stock and insight their grocery-shopping routines.
At Filipino restaurants like Abby Ferrer's Star Noodle and Sheldon Simeon's Lineage, the food is completely inspired by family.