After one journalist's sexist Alexandria Ocasio-Cortez critique goes viral, the memes ensue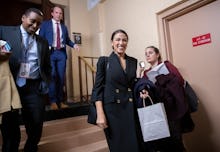 Alexandria Ocasio-Cortez, the Representative-elect for New York's 14th congressional district and the youngest woman elected to Congress, recently moved to Washington and has already been subject to unnecessary and blatantly sexist scrutiny.
One of those critiques came from Washington Examiner writer Eddie Scarry, who implied in a tweet that clothing Ocasio-Cartez was wearing in a photo was not an indicator that she was struggling financially.
"Hill staffer sent me this pic of Ocasio-Cortez they took just now," Scarry wrote on Thursday. "I'll tell you something: that jacket and coat don't look like a girl who struggles."
The photo has been deleted, but journalist Soledad O'Brien, captured a screenshot of it below.
Ocasio-Cortez, who was previously a bartender before she ran for office, has been open about her financial obstacles.
"I have three months without a salary before I'm a member of Congress. So, how do I get an apartment?" she told the New York Times in a Nov. 7 report. "Those little things are very real."
She also has less than $7,000 in savings, according to her communications director, CNBC reports.
But Ocasio-Cortez's money issues doesn't mean she lacks appropriate clothing for her new job. Supporters of Ocasio-Cortez, recognizing the ridiculous logic of Scarry's tweet, sparked a parody meme that trended Thursday evening. Here are a few of the funniest tweets below:
Later in the day, Scarry attempted to retract his tweet and deleted it.
"ATTN! I posted a tweet earlier suggesting the incoming congresswoman looked well put together — ELEGANT even — despite suggestions she's struggled," Scarry wrote. "The tweet was taken as something else, so I've deleted it!
Ocasio-Cortez did have the final word on the issue and expressed a sad truth, that she would be judged about her clothing regardless of what she wears.
"If I walked into Congress wearing a sack, they would laugh & take a picture of my backside," she said. "If I walk in with my best sale-rack clothes, they laugh & take a picture of my backside. Dark hates light — that's why you tune it out. Shine bright & keep it pushing."
She also called on Scarry to apologize directly to her, but as of Friday morning, he has not issued one to her.