What Melania Trump wore her 95th week as first lady — including on a trip to France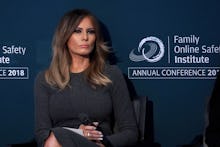 First lady Melania Trump was back in the spotlight again this week, not only because of her international trip with her husband to commemorate the 100th anniversary of the end of World War I. Trump also reportedly had a hand in getting now-former Deputy National Security Adviser Mira Ricardel removed from her position.
As ABC News reported Thursday, Ricardel was "reassigned" to another role just one day after the first lady called for her to be fired. The two reportedly clashed over tensions during Trump's solo trip to Africa in September. The first lady having a say in the removal of a top administration official, however, has been called "unprecedented."
Trump's spokesperson, Stephanie Grisham, released a shocking statement Tuesday confirming Trump's role in Ricardel's departure. "It is the position of the Office of the First Lady that she no longer deserves the honor of serving in this White House," the statement read.
Wow. That's a lot of Melania drama this week. Let's check out what she wore, shall we?
Saturday, Nov. 10: A Bottega Veneta dress to meet the Macrons
Upon their arrival in Paris on Saturday, President Donald Trump and Melania Trump met up with their French counterparts, French President Emmanuel Macron and his wife, Brigitte Macron. The American first lady wore a belted black dress from the Bottega Veneta Fall 2017 collection, which she paired with black leather gloves and black stilettos.
Sunday, Nov. 11: A Dior dress to WWI commemorations
On Sunday, the first couple attended events marking the 100th anniversary of the armistice that ended World War I — although the president did cancel a planned visit to a WWI cemetery outside Paris, reportedly because of rain.
Among the events attended by the first lady was a lunch for spouses and partners of world leaders. For Sunday's observances, Trump wore a grey Christian Dior dress from the Pre-Fall/Winter 2018-2019 collection.
Thursday, Nov. 15: A plaid coat to visit Marines
The first couple visited a Marine Corps barracks in Washington, D.C., on Thursday, the Associated Press reported. The two chatted with Marines and sat around a table set with tiny pumpkin pies. Melania Trump wore a plaid coat to the event — plaid seems to be a favorite pattern of hers this fall.
Thursday, Nov. 15: A gray, long-sleeved dress to an online safety conference
Also on Thursday, Trump attended the Family Online Safety Institute's annual conference in Washington, where the theme was "Creating a Culture of Responsibility Online," according to Time. The first lady wore a simple, long-sleeved gray dress to the conference, where she also delivered a brief address.
"I remain committed to tackling this topic because it will provide a better world for our children," Trump said. "And I hope that, like I do, you will consider using their negative words as motivation to do all you can to bring awareness and understanding about responsible online behavior."
Yes, it sure would be great if everyone — including world leaders — practiced "responsible online behavior." Anyways, that's all for this week.
You can read previous recaps of what Melania Trump wore here.