Australia's sacred Uluru park is finally getting the protection it deserves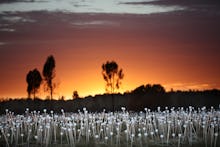 The heart of Australia beats in the very place where the land looks as though it cannot sustain life, where salt flats give way to trees with far-reaching roots, bush shrubs and a sea of red sand. Known alternately as Uluru and Ayers Rock (its respective aboriginal and colonial names), the massive rounded monolith that defines Uluru-Kata Tjuta National Park in the country's Northern Territory rises dramatically against an otherwise level horizon, changing color as the sun rises and sets, a chameleon in the Australian Outback.
It's here the aboriginal Anangu still live in many ways as they did tens of thousands of years ago, and it's here the world as we know it began to take shape, according to the Anangu — at this very spot, with this very rock. I visited the area in March on a trip hosted by Tourism Northern Territory.
Despite its Sistine Chapel-level sanctity among Anangu and designation as a United Nations Educational, Scientific and Cultural Organization World Heritage site, Uluru has turned into the Northern Territory's own Half Dome, its surface marred by post-mounted braided steel cables that aid tourists (who ignore "please don't climb" signs) in ascending the monolith. Decades of foot traffic have altered Uluru's surface in ways seemingly insignificant to outsiders, but Uluru isn't just a monument to the Anangu — it's scripture, the origin story for all the cosmos detailed across its northeastern face.
But come Oct. 26, that changes. On the 34th anniversary of the Anangu regaining control of the land, the posts will come down and climbing Uluru will at last be prohibited. It's a huge moment for the Anangu — and zero loss for local tourism, as experiencing Uluru doesn't rely on walking all over its ancient relics.
While most of the area's activities take places during dawn and dusk — in part due to uncomfortably high temperatures — days can be spent wandering well-mapped trails that spider out from the 6.5-mile route circumnavigating Uluru's base and wind toward unexpected watering holes and into caves, where ancient rock art, preserved for centuries, details the ceilings.
As sunset approaches, onlookers turn their backs to the sun to watch Uluru change with every minute, the sky's purple and pink hues reflected in its face as a deep red spreads across the outback's floor, hundreds of greens shifting subtly across the bush. The landscape could be easily mistaken for a painting — only the creeping shadows cast by the Earth's rotation give it away.
The must-try dish
You can't go to Uluru without sampling bush tucker, which is what native ingredients of the outback are called. The Tali Wiru dining experience (booked with Ayers Rock Resort and offered from April to October) pairs those flavors with a sense of place, taking guests on a voyage to an isolated collection of dunes to witness the sunset on Uluru. It's followed by an al fresco bush tucker dinner with a fine dining twist under the Southern Hemisphere's elaborate web of stars, where every two hours, one constellation sets and another rises. After the meal, an Anangu guide shares traditional stories about the night sky.
How to give back
Simply staying at any of the Ayers Rock Resort–branded properties makes a difference. They range from two- to five-star and have a monopoly on the area's accommodations, but also contribute to sustaining Anangu life through employment, education and advocacy, as they're all owned by Voyages Indigenous Tourism Australia. You can further support the community by visiting the Cultural Centre, which has a bounty of information about the Anangu, Uluru and its sister rock, Kata Tjuta, plus an art gallery and open studio where Anangu artists work on intricate dot paintings. Each piece is a vibrant original and priced extremely reasonably, starting at around $15 and increasing depending on the size and intricacy of the pattern.
A hidden-gem attraction
Internationally acclaimed artist Bruce Munro's incredible "Feld of Light" installation, a temporary outdoor exhibit in the dune valleys of Uluru, was recently extended through 2020. You can experience it a few ways, but waking up before dawn to wander among 50,000 multicolored bulbs in the outback made me feel as though the stars above had been brought down to the Earth for me to swim through in the darkness and calm of early morning.
For more of Mic's Best Places to Travel in 2019, explore our map or view the complete list here.