Panama City, the birthplace of the New World, is celebrating its 500th birthday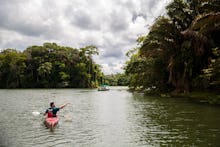 In seven hours or less, travelers departing from across the lower 48 can land in Panama City, where the oldest European settlement on the Pacific Coast of the Americas celebrates its 500th birthday in 2019. This is where the New World was born and where it thrived, thanks to the Panama Canal.
Panamá Viejo and its preserved city ruins sit in the suburbs of the country's modern-day capital. After being completely devastated by a pirate attack in 1671, the settlement was forced to move some four and a half miles southeast to what's now known as Casco Viejo or Casco Antiguo, the Historic District. Together, the two old city centers jointly comprise a UNESCO World Heritage Site, the latter of which has turned into Panama City's hotspot, complete with charming colonial–Latin architecture (think the bannistered balconies and color palette of Havana) and a strong-willed nightlife that lives on rooftops across the neighborhood.
The abundance of chic boutique hotels — such as the 1917 American Trade Hotel or grand colonial Central Hotel Panama, both of which feel like you're on the set of some elegant 1920s Panamanian film — makes it an ideal basecamp for a long weekend dotted with lazy brunches and cafe (or bar) crawls. But make sure to peel yourself away to uncover Panama City's wild side.
The Panama Canal's Miraflores Locks and accompanying museum are not to be missed, especially if you time the visit with ships coming in so you can witness the sheer magic of engineering first-hand. But there's also adventure waiting on canal. Team up with a local operator like Adventuras Panamá to get on the same level as those massive ships and spend a half-day kayaking the canal, starting in Soberanía National Park and heading to Gatún Lake to paddle around Monkey Island in search of sloths dangling from trees and white face, howler, and spider monkeys.
The best way to give back
Visiting Panama in May 2018 reminded me of the value of working with local guides, like those who run the sustainability conscious EcoCircuitos tours. It's a mutually beneficial way to practice responsible tourism, as local guides are like walking, talking encyclopedias that give you unparalleled access to a place plus fascinating cultural insights and the sort of legit tips that guidebooks, no matter how well written, just can't deliver.
A hidden-gem attraction
The only Frank Gehry design in all of Latin America belongs to the incredible Biomuseo museum. The inside is just as vibrant as the architecture, taking a creative approach to illustrating Panama's contributions to biodiversity through a number of visually stunning and interactive exhibits, including the three-story Panamarama, wherein 10 massive screens make up the floor and walls to transport you through the country's various ecosystems.
The must-buy souvenir
Coffee: Panama is known for its richly caffeinated, nutty light roast. It's also home to the world's most expensive coffee, a varietal known as "geisha" whose flavor profile more closely resembles tea than traditional coffee.
For more of Mic's Best Places to Travel in 2019, explore our map or view the complete list here.