Mendoza is the grape capital of South America — and the food is just as good as the wine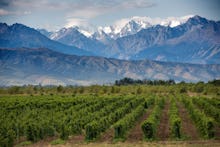 Life
By
Sorrel Moseley-Williams
Visiting Mendoza, the wine capital of South America, is a sensory experience: The Andean region is pure eye candy, with hundreds of acres of vineyards tucked close to the mountains. Between a weak peso and increased international flights to Mendoza's El Plumerillo International Airport, it's an ideal time to visit Argentina's glorious wine country.
You'll want to visit both family-owned and larger operations to gain a sense of Mendoza's winemaking spectrum, but there's also a fledgling natural wine scene worth seeking out. Barsette Parador, a recently opened tasting room, stocks an array of vintages from the Michelinis, a renowned oenological clan, and is based out of Matías Michelini's Passionate Wines in Uco Valley. It opens daily for tastings of gems such as Gen del Alma Chardonnay, Livverá Malvasia and Vía Revolucionaria Moscatel Pink Panther.
Where there's great wine, there's usually also great food, with many bodegas (wineries) serving lunchtime tasting menus to go with their star vintages. At Chef's Table star and pitmaster Francis Mallmann's Siete Fuegos restaurant, for example, you can take a grilling class and learn fire management techniques, the art of making Argentina's quintessential chimichurri sauce, and how to select and prepare meat cuts.
And following its elaborate six-week pop-up in Uco Valley in 2018, top Buenos Aires establishment Tegui will return for a second outdoor dining experience beginning Feb. 20. Ranked among the world's 50 Best Restaurants, chef Germán Martitegui removes his home comforts to take on the elements with a Mendoza-focused menu at SuperUco winery.
After a brief hiatus, chef Pablo del Río is back slow-roasting goat in his clay oven at Siete Cocinas. And during vendimia (harvest time) from January to March, Bodega Lagarde's Fogón restaurant will open on weekends for dinner.
For wine-themed accommodations, Entre Cielos in Luján de Cuyo — where I stayed as a guest in 2017 — has added eight new vineyard lofts that are dotted across its Malbec estate. The eight lofts come with king beds and outdoor terraces offering natural light and endless views, each facing the vines and the glorious Andes.
Get to the good stuff
The city of Mendoza itself isn't the most exciting, so stay there for just one night at Park Hyatt Mendoza before moving on to the province's two biggest wine regions, Luján de Cuyo or Uco Valley.
The must-buy souvenir
A bottle of a favorite vintage you sampled; it's probably not available back home and is the perfect memory to share. Wines tend to be better priced at bodegas, and only big-name bodegas sell at duty-free shops.
Eco-friendly initiatives
Organic and biodynamic winemaking — wines made without pesticides and fertilizers — are becoming more common in Mendoza. Support the industry by visiting or buying from bodegas such as Domaine Bousquet, Alpamanta and Ernesto Catena Vineyards, among others.
For more of Mic's Best Places to Travel in 2019, explore our map or view the complete list here.