Mic Daily: Betsy DeVos expands rights for those accused of sexual harassment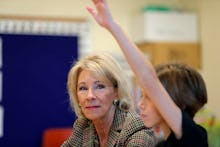 Good evening, Mic readers, and happy Friday to you all.
A quick reminder before we jump into the top five stories from Mic: We still have some spots open for a free Transgender Day of Remembrance event here at Mic HQ in New York City. We'd love to see you there. RSVP on Facebook if you're in the neighborhood.
After one journalist's sexist Alexandria Ocasio-Cortez critique goes viral, the memes ensue
Washington Examiner writer Eddie Scarry learned the hard way that there's no place for your sexist commentary on Alexandria Ocasio-Cortez — especially not on Twitter. Read more.
While You Weren't Looking: 5 stories from the Trump administration that aren't about counting votes
The midterm elections, for yet another week, were seemingly all anyone could talk about — but there was a lot more going on in Trumpland. Read more.
Betsy DeVos releases new rules on sexual harassment and assault that expand rights of the accused
Education Secretary Betsy DeVos announced new rules that both narrow the definition of sexual assault as well as expand the rights for those accused of such behavior. It's a move that's been condemned by the American Civil Liberties Union and other sexual assault awareness and advocacy groups. Read more.
Judge orders White House to reinstate Jim Acosta's press pass, a blow to Trump administration
Well, hey, turns out the Trump administration's plan to use doctored footage to sway a judge wasn't the world's greatest plan. Who knew? Read more.
Why Jemel Roberson and other black men with legal guns don't have political allies
Mic's Chauncey Alcorn looked at the NRA's handwringing when it's asked to defend back licensed gun owners — something it's not so squeamish about when the gun owner is white. Read more.
Mic Daily is Mic's newsletter that cuts through the noise and lands in your inbox every weekday. We carefully curate each edition to send you a cross section of our most vital stories of the day.