Salvador, Brazil, is home to turquoise beaches and spicy Bahian food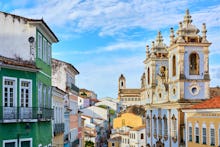 Salvador, referred to in textbooks as Brazil's "first" capital, was the seat of Portuguese colonial power for over two centuries. Brazilians love its turquoise beaches and rows of pastel 17th-century houses dotting the coastline. In many ways, it's a lazier, more discreet version of Cartagena — a mythical fishing port with winding cobblestone alleys and a church covered in gold, minus the hordes of tourists.
But, as South American capitals like Lima and La Paz make a name for themselves as food destinations, Salvador is quickly gaining steam with its forward-thinking restaurants.
Spicy, rich Bahian cuisine (Salvador is located in the state of Bahia) is a heady blend of Portuguese, African and indigenous Brazilian influences. It relies heavily on stews and braised meats, and uses generous helpings of cilantro, dried shrimp paste, and dende (palm oil). Because of the strong flavors of Bahian food, some dishes are almost similar to Thai curry. Salvador's most famous export is moqueca, a zesty, bright orange seafood stew served simmering in a cast iron skillet. For years, moqueca was the apotheosis of Bahian cooking. Now, that's all changing.
Chef Fabricio Lemos, a 38-year-old Salvador native, has made it his mission to elevate the cuisine. Origem, his award-winning 2016 debut on the east side of town is all about native Bahian flavors, served in untraditional ways. The tasting menu might include mini tacos with succulent braised Bahian goat, or fresh-caught grouper on a delicate squid ink lattice, or banana gnocchi in a moqueca-inspired sauce. For dessert, there's even a chocolate medley, with cacao from nearby producers.
If that sounds like a departure from the black-eyed pea fritters and yucca-and-shrimp puree normally associated with a Bahian beachside spread, that's the point.
In an interview, Lemos said that Bahian cuisine "is in the midst of an evolution," pointing to another Salvador newcomer, Casa de Tereza, as evidence of the change. Thanks to the wild success of Origem, Lemos is getting ready to open a second, more casual restaurant, named Ori, in Salvador in December.
Salvador is getting a major upgrade on the hotel front, too: in December, the Fasano Salvador will finally open its doors after five years of careful renovation. The 70-room luxury hotel is housed in a former newspaper headquarters from the 1930s, and has a rooftop pool with views out to the Bay of All Saints.
Unlike its urban flagship hotels in Rio and São Paulo, this Fasano, with its private wine club and Art Deco features, will strike a more reserved tone. But maybe that's not such a bad thing: as more Americans start making their way into lush, exotic Bahia, wandering through its covered markets and diving into its captivating food scene, they will see that Salvador offers one thing those larger cities can't: a true sense of escape.
The must-visit restaurant
It's hardly a splurge at $48, but the 14-course tasting menu at Origem is excellent. Every course is surprising in its own way, but the one I came away loving was the ravioli, stuffed with a vatapá filling made with yucca, dried shrimp and peanuts.
How to give back
Sign up for a capoeira class with a local capoeira school. It's not voluntourism, but you'll be meeting and supporting local kids who are eager to show off their native dance to a foreigner — and you'll go home with a few new dance moves.
A hidden-gem attraction
I highly recommend an ice cream shop called Sorveteria da Ribeira, with something like 60 flavors, all native Brazilian fruits and ingredients, like cupuaçu, umbu (like a sour plum) and tapioca.
For more of Mic's Best Places to Travel in 2019, explore our map or view the complete list here.