A new nonstop flight makes Nairobi — and Kenya's safari scene — way more accessible to Americans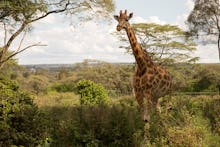 October marked a historic moment for Kenya, with the launch of the first-ever nonstop flight between Kenya and the U.S. — a project three years in the making. The 14-hour flight is a game-changer for Kenya, a signal of support from the U.S. that will likely result in an influx of new business. But it's also a big deal for American travelers, who now have a direct flight out of New York's John F. Kennedy International to Nairobi, which previously required a transfer somewhere in Europe, the Middle East or elsewhere in Africa.
The Kenya Airways flight (Mic traveled as a guest on the inaugural flight) cuts hours of travel time off a trip to Nairobi. The city is a bustling hub but also has plenty of animal adventures, such as feeding (and kissing) giraffes at the Giraffe Center, an organization that helped increase the population of Rothschild giraffes from 130 in the late 1970s to 300 today.
A short drive from the Giraffe Center is the can't-miss David Sheldrick Elephant Orphanage, which rescues elephant orphans — many of which lost their mothers to poaching — and raises them until they're ready to go back into the wild. Visit around 11:00 a.m., the feeding hour open to visitors, during which the elephants come out for a meal of milk formula and to play in the reddish mud.
Stay at Fairmont the Norfolk, one of the oldest hotels in Nairobi. With colonial-style buildings that date back to 1904, it's a sprawling green oasis in the middle of the city. The hotel can help arrange a game drive through the Nairobi National Park for a mini-safari — the park is located within city limits and home to endangered black rhinos, zebra, lions, leopards, buffalo and many other species.
After a few days in Nairobi, you'll want to head out of the city for a more robust safari trip to Kenya's famous Maasai Mara National Park, home to the "big five": the elephant, rhino, leopard, lion and buffalo. And for something a little more relaxing before your long flight home, take a detour to the much-overlooked Kenyan coast. Diani Beach, roughly an hour's flight from Nairobi, has white sand beaches and turquoise waters that rival the ones in Southeast Asia.
What to expect from the local food
Kenyan food is heavy on stews, spices and staples like beans and maize. Nairobi's top restaurants serve a lot of seafood, especially local catches from off the coast. Look out for Indian influences as well, due to Kenya's proximity to the Indian Ocean — curries and chapati are two common foods.
Kenya's signature cocktail
Kenya's classic drink is the dawa — the Swahili word for medicine — which is typically made with vodka, lime and honey. It's equal parts sweet, tart and bitter, and goes down a little too easily.
The best place to shop
The Maasai market in Nairobi, which changes locations daily, is a must-visit. Vendors show off their wares — colorful jewelry, kikoy fabrics, wooden kitchenware and masks — while some bead their goods right in front of you. Just know that you're expected to bargain. A good rule of thumb? Aim to pay around half of what the first asking price is.
For more of Mic's Best Places to Travel in 2019, explore our map or view the complete list here.