Maui is coming out of Oahu's shadow, thanks to its quiet beaches and great restaurants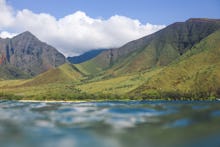 Maui, the second-largest Hawaiian island, is often overshadowed by its tourist magnet of a neighbor, Oahu. But that's exactly why there's no better place to visit than the "Valley Isle."
Home to virtually pristine beaches and a sprawling national park, parts of Maui are still untouched by the swaths of tourists who frequent the islands. Maui has become known for its quieter resort areas in Kapalua and Ka'anapali. One of the newest luxury hotels, the Westin Nanea Ocean Villas, is on North Ka'anapali Beach, an ideal spot for paddle-boarding, snorkeling and escaping the throngs of crowds at other popular beaches. The island is also home to vodka and rum distilleries on the rugged landscapes of the upcountry and a restaurant scene with native Hawaii, Chinese, Japanese, Filipino and Portuguese influences.
On a trip arranged by Hawaii Tourism Authority in October, nearly every chef I spoke to talked about the island's increasing reliance on locally grown produce to inform Hawaii's culinary identity. From turmeric grown on the sides of dormant volcanoes to vegetables grown on Oprah's very own farm — yes, that Oprah — Maui's food scene is defined by both its freshness and a mix of ethnic influences.
Forget the tablecloths and silverware: Maui is all about a hands-on, no-frills approach to food. For a fresh mahi-mahi sandwich, try the Fish Market Maui in Lahaina on the west side of the island. For poke — because every trip to Hawaii should include poke — the tiny, beachside Poke Hale Grindz is a quick and easy place for authentic, seasoned ahi. Take the meal to go, grab a table near Kahului Bay and enjoy the ocean views and mountainous coastlines.
There's also the recent arrival of Top Chef's Sheldon Simeon's Lineage in Wailea, which will likely bring new attention to Maui's food scene. Try the fried mochi dipped in pâté and other modernized, comfort-food staples like katsu curry and beef stew.
The must-try dish
Maui is defined by so many ethnic cultures, it's nearly impossible to encapsulate them in a single dish — but to many Hawaii locals, the plate lunch might be the answer. A typical plate lunch consists of two scoops of white rice, macaroni salad and an entree meat like chicken katsu. Dating to the late 19th century, the plate lunch has had a long history as a midday meal for laborers on sugarcane plantations. By the 1950s, mobile trucks began selling these lunches on paper plates, eventually giving rise to the popularity of food trucks and plate lunches all over the islands.
The souvenir to buy
Have an extra hour before your departing flight? Take a 30-minute walking tour of Surfing Goat Dairy Farm on the slopes of Maui's Haleakala crater and grab some garlic-chive, jalapeño or sun-dried tomato-goat cheese on the way out. Bring your appetite, as these won't necessarily hold on the plane ride home. As an added bonus, tour guides will give you the opportunity to feed some of the fenced-off goats.
Insider intel
Traffic can be arduous with Maui's limited highways, especially if you're transferring from one resort area to another. Be prepared for an hourlong drive — but at least it's through winding, picturesque cliffside roads.
For more of Mic's Best Places to Travel in 2019, explore our map or view the complete list here.