The presidential turkey pardoning is a cruel tradition — here's what happens after the big day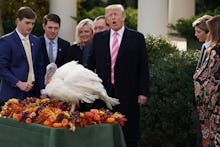 On June 28, 50 top tier turkeys were hatched in South Dakota. The rafter is designed to be the best-looking, most personable, charismatic birds in America come Tuesday, Nov. 20, the date of the annual Presidential Turkey Pardoning. The crew moved into a specially built barn where they were pampered with air conditioning, outdoor space to roam and a sound system — Ed Sheeran was a favorite of some of the birds, according to South Dakotan and National Turkey Federation Chairman Jeff Sveen.
As the turkeys grew, Sveen's selected turkey grower, Ruben Waldner, pared down the "picks of the litter," eventually whittling down the potential pardonees from 50 to 10, and then, a week before the pardoning, six. "It's a beauty contest," Sveen said of the characteristics growers look for when selecting the fleet. "We want that turkey to look good at the White House and have a good character and demeanor." Laid-back turkeys have a better chance of being selected than aggressive ones, and they have to have a nice walk, solid feathers and ability to interact with people. In fact, local students and dogs have socialized with the turkeys, to help them adjust to what may be their big moment in Washington, D.C.
Once the two top birds are selected, they drive to D.C. with Sveen and his grower in an SUV padded with wood chips and special cushions. "We couldn't find any seat belts that would fit them," Sveen joked. The nearly two-day trip ends at the Willard Hotel, where the turkeys will be treated to their own room to "rest and relax." Before Tuesday's pardoning, the birds, only one of whom will officially be pardoned (the other is an understudy, should the selected six-month-old bird misbehave), are shampooed and dusted with baby powder "to make them glisten and get soft before meeting the president," Sveen said. The 48 losers of the bird beauty contest, too large to fit in Thanksgiving roasting pans, will become deli meat.
The turkey is part of a larger meat-eating culture that Americans indulge in record highs — an average of over 200 pounds of red meat and poultry per year are consumed per American. So why does pardoning two turkeys, out of the 46 million turkeys that will be eaten this Thanksgiving, matter?
The tradition of turkey pardoning dates back to 1863, when then-President Abraham Lincoln granted one lucky bird clemency from Christmas dinner. In 1870, a farmer gifted a (deceased) turkey to President Ulysses S. Grant, and while the record doesn't show any official pardoning, this gifting tradition remained. In 1947, the National Turkey Federation and the Poultry and Egg National Board gifted live turkeys to President Harry Truman and the pardoning tradition persisted ever since, keeping two turkeys off America's tables annually (but still, other turkeys are typically part of the presidential holiday feasts).
Still, this sparing of poultry isn't popular with animal activists. It is, after all, a Hunger Games of sorts. "When no 'pardoned' turkey has lived past the age of two, 'sparing' an unnaturally large bird who's likely on the brink of heart failure is fake news," PETA president Ingrid Newkirk said in an email, regarding the annual presidential turkey pardon. The real news, Newkirk said, is that presidentially pardoned turkeys often die shortly after their time in the spotlight — though still outlive their siblings, typically slaughtered at five months old to be butchered and consumed.
Newkirk points out the hypocrisy in the whole staged event, "If the White House truly wanted to save a turkey's life, there would be a Tofurky roast on the president's table instead of a bird's corpse." President Donald Trump's regard for poultry life is futile: While pardoning his turkey Drumstick in 2017, he joked about revoking the pardon on President Obama's turkeys circa 2016 and condemning them to being eaten, though that did not happen.
This year's presidential turkeys, named Peas and Carrots, are the first to hail from South Dakota, which excites Sveen, as a South Dakotan. They'll be transported to Virginia Tech after the big day. He sees the annual pardoning as a bipartisan community event. "It's a feel good thing," he said. "With everything that's going on, with the troubles we have, I think the U.S. is still a pretty good place to live and Thanksgiving is a time when you're not Republican or Democrat or whatever and you're just giving thanks for being an American."
The two spared turkeys will also be giving thanks when they're watching football on Thanksgiving Day (an activity Sveen reports they are interested in), while their brethren will face, well, a future in deli cases and between bread slices.
Nov. 19, 2018, 4:36 p.m.: This story has been updated.