Saratoga Springs isn't just for horse people — it's a nature escape with great food, too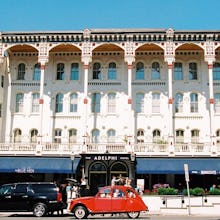 Saratoga Springs, New York — a charming college town roughly 3.5 hours away from New York City by car — makes for a divine weekend escape. In any season, whether you're taking in the bounty of golden leaves in the fall or making bets in fancy hats at the race track in summertime, Saratoga is a great antidote for city life.
What's so great about Saratoga is you can do it up luxuriously or have an adventurous few days without breaking the bank. In the case of the former, stay at the Adelphi Hotel, originally built in 1877 and reopened at the end of 2017 after an extensive renovation. The Adelphi sits squarely in the middle of Broadway, Saratoga's main street, so plan to do some window shopping as you walk to and from the hotel.
If you prefer something a little more subtle, book a room at the Downtowner, a new boutique also located in the center of town. Once a very dive-ish motor lodge, the updated hotel has a stellar atrium with a retractable glass roof; it's an ideal spot for a cocktail.
Wherever you end up storing your bags, you'll want to leave them put while you sample the many flavors at Saratoga Olive Oil, enjoy the craft beers at Druther's Brewing or, if more your speed, pull up a seat at the tasting room at the Saratoga Winery, where you must try the signature Melomel, an all-natural wine made of just grapes and honey and fermented in Kentucky bourbon barrels.
Walk it all off in the stunning Saratoga Spa State Park and detox at the Roosevelt Baths, a historic landmark where you can unwind in a tub filled with mineral water sourced from a nearby spring, which is said to relieve stress, soothe muscles and stimulate the immune system. If the tub isn't for you, take a dip in one of gorgeous swimming pools — weather-permitting, of course — play an 18- or 9-hole round of golf or simply let yourself roam in the miles of nature trails, where bikes, skis and snowshoes are encouraged, depending on the season.
For a late-night indulgence
There's plenty of fine dining to be had in Saratoga, but since it's home to Skidmore College, it's also full of foods designed for greasy late-night snacking. Perhaps the dish most well-regarded by Skidmore students is the Doughboy at Esperanto's: pizza dough stuffed with chicken, cheese and scallions, baked until pillowy and golden brown. (A vegetarian version called the Doughgirl is also available.) After a night on Caroline Street, where there's a bar at every corner, a Doughboy can sop up all of your sins.
How locals cool off
Saratoga Springs is about a half-hour from Lake George, where many families go for boating and other fun lake activities. But there are plenty of places to cool off in Saratoga's surrounding area, including Moreau Lake State Park and the nearby Spier Falls.
An irresistible tourist trap to give in to
If you're walking on Broadway during the weekend and it's not freezing cold, you can't ignore the smell of Broadway Kettle Korn, a little stand underneath a blue tent in the Downtowner's parking lot. There's something special about this salty-sweet snack: It lands directly in the middle of both flavor profiles, making it hard to stop eating. Just give into your senses and get some already.
For more of Mic's Best Places to Travel in 2019, explore our map or view the complete list here.