This Week in Trump-Russia News: Anticipation grows over Mueller's next move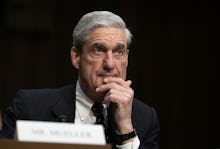 The week began with expectations of imminent indictments in Robert Mueller's Russia probe.
But the work week drew to a close Friday without any fireworks from the special counsel, and the anticipation has continued to build as the probe into Donald Trump's 2016 presidential campaign draws nearer to its conclusion.
Roger Stone associate expects to be indicted
The lack of major moves this week didn't stop speculation about the probe, including from some who may be targets of investigators.
Conspiracy theorist Jerome Corsi, an associate of Roger Stone, said in a livestream this week that he is expecting to be indicted by the special counsel.
"I'm going to be indicted," he told his viewers, according to the Washington Post. "That's what we've been told. Everyone should know that."
Corsi's name came up in relation to the Russia probe in October, when it was reported that Mueller had uncovered evidence that the conservative author had prior knowledge of the Hillary Clinton emails WikiLeaks released in 2016.
The special counsel has been believed to be investigating whether Corsi passed that information on to Stone, a confidante and unofficial adviser to Trump.
Stone — who has also seemed to be a target of the probe in recent months — has already acknowledged communicating with Guccifer 2.0, the fictitious online persona through which Russia disseminated stolen Clinton and Democratic Party documents ahead of the 2016 election. He has also reportedly bragged about having been briefed on WikiLeaks' Clinton emails by Julian Assange before the documents were released to the public.
He was alluded to in the charging documents for the 12 Russians Muller indicted in July over Moscow's election interference.
Trump goes on attack in unhinged Mueller rant
Trump, meanwhile, has reupped his attacks on Mueller as the investigation inches closer to its conclusion.
In a wild four-part Twitter rant Thursday, Trump reiterated familiar criticisms of the "witch hunt," claiming that Mueller and his team are "conflicted," destroying peoples' lives and refusing to look at "bad acts and crimes on the other side."
But the president also added a few more numbers to his typical routine, including the forecast that "universities will one day study what highly conflicted ... Bob Mueller and his gang of Democrat thugs have done to destroy people." He also gave an elaborate description of the "total mess" of the "inner workings" of the probe, in which investigators are "screaming and shouting at people, horribly threatening them to come up with the answers they want."
"They are a disgrace to our Nation," Trump tweeted.
Such attacks on the Mueller probe are in no way surprising at this point, considering Trump has spent the better part of two years now lashing out at the FBI investigators looking into his campaign's ties to Russia and possible obstruction of justice.
But this latest round seems somewhat notable, both for the intensity of the broadsides and their timing.
Trump is known to ramp up his attacks on Mueller and other familiar punching bags when the special counsel's investigation heats up. That he's doing so now is perhaps a signal that he's feeling the pressure as the rubber begins to meet the road in the long-running inquiry.
DOJ backs Whitaker appointment
Trump did get at least some good news on the Russia front this week.
The Department of Justice upheld his decision last week to name Matthew Whitaker acting attorney general after the ouster of Jeff Sessions.
Whitaker, a critic of the Mueller probe, was selected to replace Sessions Nov. 7 — the day after the midterm elections — in what some have argued is an attempt by Trump to rein in the special counsel.
But critics have said that Whitaker cannot legally oversee the Justice department because he has not been approved by the Senate; before Trump appointed him acting attorney general, Whitaker served as Sessions' chief of staff.
The DOJ on Wednesday said though that the move was constitutional because Whitaker will only be leading the department on a temporary basis, with assistant attorney general Steven A. Engel arguing in a memo this week that his appointment "no more constitutionally problematic than countless similar presidential orders dating back over 200 years."
Whitaker immediately became a controversial figure upon his appointment, in large part because of past criticisms of the Mueller probe and his suggestion that the Justice department end the investigation by starving the special counsel's team of resources.
He is now overseeing that very investigation, with authority over Mueller and the final report on collusion and obstruction that he's said to be preparing.
Trump readies written answers for Mueller
Mueller is expected to issue his key findings in the inquiry in the coming weeks.
One of the last remaining missing puzzle pieces has been Trump's answers to the special counsel's written questions on collusion.
On Friday, Trump said he has finished writing his answers, but has yet to turn them in.
"You always have to be careful answering questions for people who probably have bad intentions," Trump told reporters in the Oval Office, insisting that he wrote his answers without his attorneys' help. "I haven't submitted them. I just finished them."
Trump is expected to submit his answers to Mueller next week.
Rudy Giuliani, the public face of Trump's legal team, acknowledged to reporters Thursday that some of the questions "create more issues for us legally than others."