Abrams slams Kemp's "erosion of our democracy" as she ends Georgia gubernatorial bid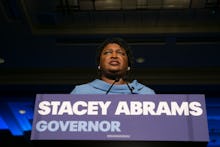 Democrat Stacey Abrams on Friday ended her Georgia gubernatorial campaign, but refused to concede to Gov.-elect Brian Kemp, criticizing the hard-right Republican for denying voters the "ability to elect their leaders."
"Let's be clear: This is not a speech of concession because concession means to acknowledge an action is right, true or proper," Abrams said in a speech at her campaign headquarters in Atlanta Friday. "As a woman of conscience and faith, I cannot concede that."
Abrams, 44, narrowly lost her bid to become the country's first black female governor. The closely watched race — which pitted her against Kemp, a staunch ally of President Donald Trump — had been controversial from the beginning, with the Republican facing accusations of leading a widespread campaign of voter disenfranchisement in the state in the weeks leading up to the election.
Kemp, as the former Georgia secretary of state, had overseen the gubernatorial race in which he was a candidate.
An Associated Press report published in October had found that some 53,000 new voter registration applications were on hold with Kemp's office after failing to meet the criteria of the "exact match" policy that he helped to institute, which stipulated that any voters with paperwork that did not exactly synch with their government-issued ID — down to misspellings and misplaced hyphens — would have their applications put on a pending list.
Kemp's campaign had also been dogged by lawsuits in the weeks leading up to the election. On Oct. 24, a federal judge granted a temporary restraining order in favor of the Georgia Muslim Voter Project and the Atlanta chapter of Asian-Americans Advancing Justice in order to prevent Georgia election officials from tossing out absentee ballots over alleged mismatched signatures.
Abrams, who founded an organization called the New Georgia Project in the explicit interest of registering new voters in the state, had openly criticized Kemp for ushering what she referred to as a "miasma of fear" around casting a ballot in the state.
"Voting should not be a question of trust on the part of voters, whether they can trust the system," Abrams said during an appearance on State of the Union in October. "And right now, he is eroding the public trust in the system because 53,000 people have been told, you may be able to vote, you may not, it's up to you to prove it."
In the days leading up to the Nov. 6 election, Kemp accused Democrats without evidence of hacking voter registration files and launched an investigation, leading to further abuse of power allegations.
Kemp declared victory in the race Nov. 7, the day after the election, and resigned as secretary of state. But Abrams called for the state to "count every vote" in an effort to force a run-off election and refused to concede.
Though she ended her gubernatorial bid Friday, she slammed Kemp and the state's electoral system for "[failing] its voters."
"Eight years of systemic disenfranchisement, disinvestment and incompetence had its desired effect on the electoral process in Georgia," Abrams said.
She also promised to file a "major federal lawsuit against the state of Georgia for the gross mismanagement of this election and to protect future elections from unconstitutional actions."
Trump, who had strongly endorsed Kemp and previously said Abrams would "destroy" Georgia if elected governor, congratulated the Republican on his win Friday evening and offered praise for the Democrat.
"Congratulations to Brian Kemp on becoming the new Governor of Georgia," Trump tweeted. "Stacey Abrams fought brilliantly and hard — she will have a terrific political future! Brian was unrelenting and will become a great Governor for the truly Wonderful People of Georgia!"