Trump once again endorses Nancy Pelosi for House Speaker: "She will win!"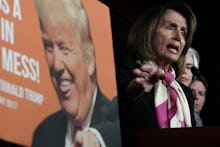 President Donald Trump on Saturday endorsed Rep. Nancy Pelosi (D-Calif.) for House Speaker, claiming he could get her "as many votes as she wants" in order to win.
"She deserves the victory, she has earned it — but there are those in her party who are trying to take it away," Trump tweeted. "She will win!"
He tagged Rep. Tom Reed (R-N.Y.), a Republican who has said in recent days that he may be open to voting for Pelosi, in the tweet.
Pelosi, who currently serves as the House Minority Leader, is vying to reassume her previous role as Speaker when Democrats retake the House in January. But a chorus of Democrats have said they will not vote for her, calling for new leadership in the party.
It's not exactly clear why Trump is throwing his weight behind her — particularly considering the way he routinely invoked her name in his attacks on Democratic candidates in the weeks leading up to the midterm elections.
One reason could be an attempt to give the appearance of having extended an olive branch to the new Democratic majority in the House after a tumultuous first two years in office and a bitter midterm battle. Another may be that whoever Democrats could choose instead of Pelosi, like Rep. Marcia Fudge of Cleveland, could be more progressive — and possibly more aggressive in pursuing investigations into the president.
Pelosi has promised to hold Trump accountable and even suggested recently that Democrats could impeach him — even if special counsel Robert Mueller doesn't find enough evidence to indict him. But she and other establishment Democrats have been wary of discussing impeachment, and Pelosi has been criticized by some on the left for adopting what they say is a too conciliatory tone toward the president following the midterms.
"We believe that we have a responsibility to seek common ground where we can," Pelosi said in a news conference following the Nov. 6 election.
Of course, Pelosi has also promised thorough investigations into Trump and his administration — something that will continue to rankle the president. With Pelosi as House Speaker, perhaps, he would also be able to continue holding her up as a bogeyman to rally his base when the next election rolls around in 2020.
Whatever his reasoning, this isn't the first time Trump has endorsed Pelosi for Speaker. The morning after the election, Trump tweeted that she "deserves to be chosen Speaker of the House by the Democrats" and suggested "we will add some Republican votes" to her cause if Democrats reject her.
"She has earned this great honor!" he tweeted Nov. 7.
But Pelosi, who has expressed confidence in her bid to be chosen House Speaker, has rejected offers of help from Republicans and told reporters that she intends to be elected by members of her own party.
"Oh please, no," she said of receiving assistance from Republicans. "Never. Never. Never."
The election for House Speaker will be held the first week of January.
Pelosi was the only confirmed candidate in the race so far as of Saturday, but several others — including Rep. Seth Moulton (D-Mass.), who has led the anti-Pelosi push on Capitol Hill, drawing harsh criticism in the process — are said to be weighing bids.