Trump defends relationship with Pence after reportedly questioning his loyalty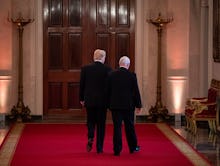 President Donald Trump on Saturday defended his relationship with Vice President Mike Pence, tweeting that a reported rift between the duo is "FAKE NEWS."
"The New York Times did a phony story, as usual, about my relationship with [Pence]," Trump tweeted Saturday morning. "They made up sources and refused to ask me, the only one that would know, for a quote."
"I can't imagine any President having a better or closer relationship with their Vice President [than] the two of us," Trump added.
The president was responding to a Friday Times report by Maggie Haberman and Katie Rogers in which sources claimed that he had been privately questioning Pence's loyalty.
Loyalty is something of an obsession for Trump, who demands it of everyone from his former attorney general to the former FBI director.
Pence has largely appeared to be a loyal servant of Trump, supporting the president's policies, rhetoric and even some of his high-profile feuds.
But he has also broken somewhat from the president on a few occasions, including during the 2016 campaign in the wake of the infamous Access Hollywood tape in which Trump described how his celebrity status allowed him to "grab [women] by the pussy."
"As a husband and father, I was offended by the words and actions described by Donald Trump in the 11-year-old video released yesterday," Pence said in a statement at the time. "I do not condone his remarks and cannot defend them."
Several Republicans after that tape was released called for Pence to replace Trump at the top of the GOP ticket, and the Atlantic reported in January 2018 that Pence "[contemplated] a coup" to take the top of the ticket in the final stretch of the 2016 election.
Still, Pence has remained publicly devoted to Trump over the last two years, making a political odd couple out of the Christian conservative and the famously philandering, foul-mouthed and shady reality star-turned-far right demagogue.
That Trump is privately questioning Pence's loyalty seems a further indication of the president's growing isolation in recent weeks. According to the Times, Trump has asked about Pence's loyalty so frequently "that he has alarmed some of his advisers." He has also reportedly considered dropping Pence as a running mate in 2020 — despite awkwardly asking his vice president during an off-the-rails press conference the morning after the midterms if he'd run with him again in two years.
"Mike, will you be my running mate?" Trump asked during the presser, telling Pence to stand up.
Pence said yes.
Trump said in his tweet Saturday that he remained close with his vice president, and called the suggestion that the relationship was anything but good "FAKE NEWS."
"The Enemy of the People!" he added.