Trump visits California amid historic wildfires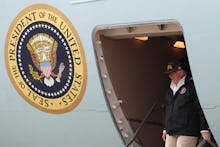 President Donald Trump on Saturday traveled to California to meet with officials and first responders as historic, deadly wildfires ravaged the state.
"We are with you all the way," Trump tweeted as he headed to California. "God Bless you all!"
Wildfires in Northern and Southern California in recent days have claimed the lives of at least 71 people, with more than a thousand residents unaccounted for as the blazes forced mass evacuations and destroyed communities.
Trump had drawn criticism last week for lambasting the state for "gross mismanagement of the forests" and threatening to stop federal aid. He has also been criticized for blocking efforts to combat climate change, which scientists say is worsening the fires.
Trump has since adopted a softer tone, praising first responders and offering condolences to victims of the disaster.
The president has also indicated he is standing with California Gov. Jerry Brown and Gov.-elect Gavin Newsom, two of his Democratic antagonists, amid the emergency.
Brown, who has been criticized by Trump online over immigration policy, and Newsom said in a statement Friday ahead of the visit they "welcome the president's visit to California and are grateful to the quick response to our aid requests."
"Now is a time to pull together for the people of California," Brown and Newsom said in the statement.
Trump was scheduled to meet with Brown and Newsom as well Republican representatives of the state and first responders. He will also meet with victims of the fire, the White House said, noting the administration supports state efforts in response to the blazes and issued three Fire Management Assistance Grants in the wake of the fires.
"We will do everything in our power to support and protect our fellow citizens in harm's way," Trump said in the White House statement.