Kanye West donates $150,000 to GoFundMe for Jemel Roberson, who was fatally shot by police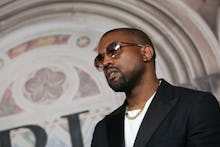 Rapper Kanye West has donated $150,000 to a GoFundMe for Jemel Roberson, a Chicago-area security guard who was fatally shot by police Nov. 11.
GoFundMe representative Bart Jackson confirmed the donation to CNN. The fundraiser, which is raising expenses for Roberson's burial and his family, has exceeded its initial $150,000 goal, raising over $308,000 in six days.
Roberson was working as a security guard at a Chicago-area bar on the day he was killed, where he intervened in an attempted shooting and detained the suspected shooter. When police officers from Midlothian, Illinois, responded to the shooting, however, they shot and killed Roberson, a 26-year-old musician who aspired to one day become a police officer himself.
"Jemel Roberson was a young man who was greatly loved by all who knew him," the GoFundMe page for Roberson reads. "He was the light of his mother Beatrice's life, and was a devoted loving son. Jemel was a gifted basketball player and musician, and his love for God and his family were at the forefront of his life.
"Sadly, Jemel's life was tragically and unexpectedly cut short this morning as he tried to save others from senseless violence. Today, many remember him as a hero; one who put others before himself."
Roberson's killing has been met with outrage, as activists, faith leaders and other public figures have called for an independent investigation.
"Words can't begin to describe my horror and outrage," Sen. Cory Booker (D-N.J.) tweeted.
Activists have urged the killing to be charged as a murder. According to eyewitness accounts of the incident, Roberson was wearing clothing that clearly identified him as a security guard and officers "panicked" and never gave him a chance to put down his legally licensed weapon before shooting him, contradicting an official report from the Illinois State Police.
"We cannot and will not as stake leaders be silent while our sons, brothers and fathers are being murdered and whether that person wears a badge or not, they must be held accountable," Father Michael Pfleger of St. Sabina Church in Chicago said in a statement Thursday. "There are consequences for murder."
According to the GoFundMe page, West made separate donations of $15,000 on Saturday. He has not publicly commented about the donation as of Sunday morning.