California Gov. Jerry Brown: Climate skeptics "will be believers" within 5 years as wildfires rage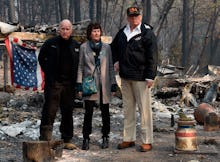 On Sunday, California Gov. Jerry Brown stressed the role that climate change has played in the state's wildfires, as both Northern and Southern California face continued devastation from the ongoing fires.
In an interview on CBS's Face the Nation, Brown countered President Donald Trump's repeated assertion that the fires are due to poor forest management. Citing a study that found the amount of land burnt in California over the past 15 years has doubled because of climate change, Brown noted that the only way to ensure "long-term forest health" is reducing carbon emissions to zero.
If that can't be done, "you're gonna see these fires not only continuing, but getting worse by the year, as they are," Brown said.
"The last five years, the fires have never been this bad," Brown said Sunday. "This fire in Malibu is the worst they've ever seen. This fire in Paradise and Northern California was the worst in the history of California.
"So yeah, you can mull the science, but I'll tell you every year it's going to get clearer and clearer so that I think in less than five years, even the worst skeptics are going to be believers."
Brown's comments come after Trump reiterated his forest management claims during a trip to California Saturday. Trump said the fires had not altered his opinions on climate change and that there were "a lot of factors" to blame for the fires, while continuing to claim that forest management — including "raking" the forest floor — could somehow prevent the massive wildfires.
"You've got to take care of the floors," Trump said. "I was with the president of Finland and he said, 'We have a much different — we're a forest nation.' He called it a forest nation, and they spent a lot of time on raking and cleaning and doing things. And they don't have any problem. And when they do, it's a very small problem."
Finnish President Sauli Niinisto said in an interview with a Finnish newspaper that while he did tell Trump "we take care of our forests," he could not recall mentioning raking to him, the Associated Press reported. Finland and Sweden's forest fires over the summer were attributed to climate change.
Brown noted Sunday that the fires surrounding the now-destroyed town of Paradise, California, is surrounded by federal, rather than state, forests. He acknowledged that while forest management is an "element" of the forest fires, the tragic blazes are caused by a "mixture of many things."
"There's also the way the houses are built, the materials, what kind of vegetation is around, and then there's also the changing climate, the increasing drought, the lower humidity and water vapor," Brown said. "All of that is combining to create the tragic situation that we saw today in both Northern California and here in Southern California."
Though Trump previously threatened to revoke federal funding to California over its allegedly poor forest management — a move firefighters called "ill-informed," "reckless" and "insulting" — Brown noted that Trump had since given California federal funding to fight the fires and "said and pledged very specifically to continue to help us, that he has our back."
The fires have killed 79 people, and another 1,300 are missing, according to figures cited by ABC News. The Camp Fire in Northern California has so far burned more than 149,000 acres and destroyed nearly 13,000 structures, while the Woolsey Fire in Southern California's Ventura and Los Angeles counties has burned 96,949 acres and destroyed 1,130 structures. Brown said Sunday he had been told the fires had spread "a football length — 100 yards — a second."
"The devastation at the human level is horrific and hard to find words to describe," Brown said, warning that those who live near forested areas should consider building underground shelters for future fires.
"If you're gonna live this close to the forest, if the climate is gonna keep changing, you're gonna have to build some kind of underground shelters so that you can go in and protect yourself, not by going three or four miles, but by going, you know, going 30 or 40 feet," Brown said.
The Camp and Woolsey fires are around 55% and 88% contained, respectively. In addition to the destruction caused directly by the flames, the wildfires have also decimated the air quality in Northern California, including in San Francisco; air quality monitoring network Purple Air has rated the area's "hazardous" air quality as the worst in the world since Thursday.