This Week in Politics: A few House midterm races still up in the air as Trump pardons a turkey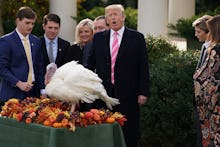 The political world is set for a quieter week this week, as politicians join Americans across the country in celebrating Thanksgiving.
Congress is out of session this week, while President Donald Trump undertakes the ceremonial tradition of pardoning the National Thanksgiving Turkey before heading to Florida for the holiday.
Several ongoing political controversies will continue this week, however; a report is expected from the CIA on the death of journalist and Saudi dissident Jamal Khashoggi, and Trump will submit his responses to Robert Mueller's questions in the Russia investigation. The ballot counting from the midterm elections are also set to continue, as several House races have still yet to be officially called.
Here's what to expect from the political world in the week ahead.
Midterm elections: Though much of the drama over high-stakes races in Florida and Georgia has come to an end, the story of the November midterm elections is still not yet over. House Democrats have a potential chance to add to the 34 seats the party has already picked up in the midterm elections, with races still yet to be officially called in Utah, Georgia, New York and Texas.
Among the races still yet to be called are the re-election bids for Reps. Mia Love (R-Utah) and Will Hurd (R-Texas), two Republicans who have not been afraid to oppose Trump. Both have narrow leads over their opponents; if Hurd's opponent Gina Ortiz Jones pulls off an upset, she would become the first Filipina-American congresswoman.
Though the vast majority of races have ended, midterm campaigning is also still ongoing, as Mississippi prepares for a runoff election Nov. 27 between Republican incumbent Sen. Cindy Hyde-Smith and Democratic challenger Mike Espy. Hyde-Smith has come under fire for comments she's made in recent days, including joking about attending a "public hanging" and saying voter suppression against Democrats is a "great idea."
Trump's agenda: This week will be filled with holiday celebrations for the president, who will participate in the delivery of the White House Christmas tree Monday with first lady Melania Trump. The president will then participate in the traditional presentation and pardoning of the National Thanksgiving Turkey on Tuesday.
Trump will spend Thanksgiving in Palm Beach, Florida, at his Mar-a-Lago property. Reports have suggested that he will meet with Florida Attorney General Pam Bondi while he's in Florida about potentially nominating her as U.S. attorney general, though Bondi spokesman Whitney Ray claimed those reports are "fake news" in a response to the McClatchy News Service.
Trump also said he will turn in his written responses to questions from special prosecutor Robert Mueller this week on any potential ties between Russia and Trump's 2016 campaign. The responses come as Trump has ramped up his rhetoric against the Mueller investigation in recent days, decrying it on Twitter Thursday as a "witch hunt like no other in American history." Mueller is expected to reveal his findings in the coming weeks.
"I was asked a series of questions. I answered them very easily," Trump said, as quoted by Bloomberg. "You always have to be careful when you answer questions from people who probably have bad intentions."
Jamal Khashoggi: Trump said Saturday the CIA would issue a "very full report" on Tuesday on Khashoggi's killing. The Washington Post journalist's death at the Saudi consulate in Istanbul has become a political controversy; the U.S. Department of Treasury announced Thursday it would impose economic sanctions against 17 Saudis allegedly involved in the killing. The Trump administration has reportedly also weighed removing an enemy of Turkish president Recep Erdogan from the States in order to persuade Turkey to ease its pressure on the Saudi government.
According to the Washington Post, the CIA has concluded that Saudi Crown Prince Mohammed bin Salman ordered Khashoggi's killing, echoing assumptions that have already been made about the killing by even Trump's Republican colleagues. Trump, however, has remained unconvinced that the crown prince was involved. When asked about bin Salman's potential involvement in a Fox News interview airing Sunday, Trump said, "You know, who could really know, but I can say this, he's got many people now that say he had no knowledge."