Sen. Bill Nelson concedes as contentious Florida midterm races come to an end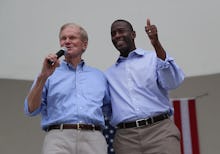 Florida Sen. Bill Nelson officially conceded Sunday to current Gov. Rick Scott in the state's Senate race, bringing the contentious race to an end after multiple recounts.
"I was not victorious in this race, but I still wish to strongly reaffirm the cause for which we fought, a public office is a public trust," he said Sunday in a statement.
Nelson's concession comes after a manual recount in the race ended and revealed Scott leading Nelson by 10,033 votes. According to the Orlando Sentinel, the second recount, which came after a previous machine recount, increased Nelson's vote tally by 2,570 votes, and Scott won the race by just 0.12%.
"I just spoke with Senator Bill Nelson, who graciously conceded, and I thanked him for his years of public service," Scott said in a statement Sunday.
The concession brings an end to the race's fraught ballot-counting process, which included unfounded allegations of voter fraud and a flurry of legal challenges in addition to the two recounts. Scott filed lawsuits to discredit how ballots were cast and counted in predominantly Democratic districts in southern Florida, while Nelson filed a legal challenge against the state's signature matching policy to ensure more ballots could be counted.
"We must end all forms of voter suppression, make it easier for Americans to vote and honor the idea that we are governed by the majority and not the minority," Nelson said Sunday.
Prior to his concession, Nelson had remained determined to remain in the race; his lawyer Marc Elias had optimistically predicted in a call with reporters Nov. 8 "that at the end of this process, Sen. Nelson is going to be declared the winner." Nelson was first elected to the Senate in 2000 and had held his seat for three Senate terms.
His loss comes one day after Democratic gubernatorial candidate Andrew Gillum conceded to now-Gov.-elect Ron DeSantis after a machine recount in the race, which put DeSantis ahead by 34,000 votes. Gillum had previously conceded on election night before withdrawing his concession amid the recount.
"We promised to fight until every vote was counted, and obviously we are now closing out the hand recount phase," Gillum said in a Facebook Live video Saturday with his wife R. Jai Gillum. "R. Jai and I wanted to take a moment to congratulate Mr. DeSantis on becoming the next governor of the great state of Florida. This has been the journey of our lives."
The Tallahassee mayor and former candidate, however, still vowed to fight to make the state a better place, saying that he and his wife "are committing ourselves alongside each and every one of you."
"More than 4 million of you decided that you wanted a different direction for the state of Florida," Gillum said. "We wanted to let you know that we see you, we hear you, and that your voices will continue to power us as we still stand on the front lines right alongside you to make this a state that works for all of us.
"Stay tuned, there will be more to come. This fight for Florida continues."
Nov. 18, 2018, 3:35 p.m.: This story has been updated.