Food, family and fights: How the sitcom Thanksgiving has — and hasn't — changed over time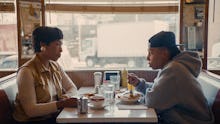 There are those who look forward to Thanksgiving because it's a time for family and friends to come together in joyous celebration — and then there are those who adamantly despise it for exactly that same reason.
Sitcom writers have long taken advantage of this holiday to explore its polarizing effects on the lives of TV characters. In Friends' first-season Thanksgiving episode, Chandler Bing is a grinch who despises the holiday as a reminder of his parents' divorce. On Fresh Off the Boat, matriarch Jessica Huang actually looks forward to hosting Thanksgiving dinner for her difficult family members. It's a privilege, in Jessica's mind, and she loves the attention.
The Thanksgiving sitcom episode has become an opportunity for characters to confront longstanding issues of betrayal, romance and just about every nuance in between.
The subplots are often repetitive: a character overcooks a turkey, leading to dinner-table mayhem. Guests show up unannounced. In the absence of families, friends come together when they need each other most.
"Often times, doing a Thanksgiving episode or a holiday episode is a challenge because every show does one, usually every year, and so a lot of things have been done," Matt Kuhn, a writer for How I Met Your Mother, told Entertainment Weekly in 2017. "You try not to run into usual tropes of, everyone is going to get in a big fight at dinner."
And while the sitcom has changed over the years to showcase more nonwhite families with their own Thanksgiving traditions on shows like Black-ish and Fresh Off the Boat, food remains a constant in the midst of chaos to convey, above all else, reconciliation.
A deep-fryer is the catalyst for two sisters' relationships in Fresh Off the Boat; in How I Met Your Mother, Robin and Ted are forced to bake pies and resolve their differences; a bottle of wine becomes the ultimate peace offering among new acquaintances in Master of None. In the world of sitcoms, characters usually find common ground and forgiveness by the time the turkey finally makes its way to the table.
And Thanksgiving disasters, like uncooked turkeys and bland cranberry sauce, are just the mechanisms by which sitcom characters can finally be honest about their feelings. After a disastrous Thanksgiving meal during the fifth season of Cheers, Frasier finally lets loose on the gang: "Who the hell do we think we're kidding? We're all a bunch of pathetic dropouts scorned by our loved ones as if anyone ever loved us at all," he says, later joking about "hair" growing on the crudité, among other culinary Thanksgiving mishaps.
From all-out food fights to undercooked turkeys, we rewatched these memorable Thanksgiving dinners to see how food has often played a pivotal role in the lives of our favorite television characters.
Cheers: "Thanksgiving Orphans" (1986)
In the Cheers' season five Thanksgiving special, Carla hosts a potluck dinner. Norm brings a raw turkey in a paper bag with the hopes of cooking it in time for dinner. While the gang sits down to eat, they soon realize the turkey remains uncooked. They argue out of hunger and desperation, which prompts a food fight of mashed potatoes, carrots and cranberry sauce. "Everybody get enough to eat?" Norm says after the fight.
The "Thanksgiving Orphans" food fight is long considered one of the series' best episodes and even one of the greatest episodes of television ever. "I think for us, the interesting seed that it germinated from was, we always thought of the people at Cheers as a family," Cheri Steinkellner, co-writer of the episode, told Yahoo in 2015, "In the sense of, no matter whether you like 'em or don't like 'em, you still have to see them tomorrow. So I think it's the idea of putting them in the ultimate family situation."
Martin: "Thanks for Nothing" (1993)
In the 1993 episode of Martin (played by actor Martin Lawrence) titled "Thanks For Nothing," Gina invites both her own family and Martin's problematic extended family to Thanksgiving dinner at their home for the first time. Gina prepares her first-ever turkey, too, only to discover it's entirely undercooked.
The dinner becomes a disaster, as both families begin to fight over their differences, mostly stemming from the eccentricities of Martin's unusual uncle and kleptomaniac cousin. This forces Gina to step in and reconcile the feuding families. "Martin and I are going to be together for a very long time and we all are just going to have to learn how to get along," she yells at them. "We're family, all of us."
Friends: "The One Where the Underdog Gets Away" (1994)
In a first-season episode of Friends, Monica hosts a Thanksgiving night for the group, who mostly have no plans for the holiday. She bakes a pumpkin pie, prepares a turkey and concocts three different styles of mashed potatoes to appease the group. When a Thanksgiving Day parade balloon goes rogue, the group heads to the roof. They soon discover they're locked out of the apartment.
Hours later, they enter the apartment to discover Monica's Thanksgiving plans have been ruined, with smoke filling the room from the overcooked turkey. By the end of the episode, they celebrate the holiday with a tray of grilled cheese and a family-sized bag of Funyuns, and wish each other a "lousy Christmas" and a "crappy new year," cementing their future friendship.
Roseanne: "Thanksgiving 1994" (1994)
Throughout the seventh season of Roseanne, Roseanne struggles with her pregnancy, which comes to a head during the Thanksgiving episode. In the episode, Roseanne hosts both her mother, Beverly, and grandmother, Nana Mary, for a classic Thanksgiving meal of mashed potatoes, stuffing and turkey.
Beverly and Nana Mary begin to bicker, forcing Roseanne to step in: "Everybody shut up and eat the dinner," she yells across the table. Roseanne soon receives a phone call from her doctor in the middle of the dinner, informing her that the pregnancy may have complications.
Boy Meets World: "Turkey Day" (1996)
In Boy Meets World's Thanksgiving special in 1996, Cory's family agrees to spend the holiday with Shawn's family in their trailer home. They share a Thanksgiving meal of crackers topped in Cheez-Whiz and a box of wine.
The dinner becomes rife with conflict when the trailer park community asks Shawn's father to disinvite Cory's more affluent family. Shawn later receives an A+ from Mr. Feeny for his essay, describing the prejudice that can exist among different classes of people, even in a civilized place like Philadelphia.
Gilmore Girls: "A Deep-Fried Korean Thanksgiving" (2002)
In Gilmore Girls' "A Deep-Fried Korean Thanksgiving," Lorelai and Rory fear disappointing their friends and family by not showing up to their Thanksgiving dinners — and decide to accept all four invitations. "Tomorrow, I guarantee you we will be standing on the Olympic platform receiving our gold medals for eating," Lorelai tells Rory. "We're not Michelle Kwan-ing this." Among deep-fried turkey and yams, the two are also forced to try "tofurkey" at Lane's home.
In the episode, Lorelai later learns Rory has applied to Yale during dinner, causing conflict among the mother and daughter over her college applications.
How I Met Your Mother: "Slapsgiving" 2007
The "Slapsgiving" episode of How I Met Your Mother (which spawns a number of similar Thanksgiving specials) follows Robin and Ted, who are no longer together and have little in common. They're forced to bake pies for Thanksgiving dinner and end up having sex. By the end of the episode, they agree they can no longer be friends given their relationship history, affecting the group dynamic forever.
"We wanted to do an episode about that theme of, what does it do to a group when two members break up?" showrunner and creator, Craig Thomas, told Entertainment Weekly. "And can everyone remain friends or is it like, are you fooling yourself?"
Bob's Burgers: "An Indecent Thanksgiving Proposal" (2012)
In a Thanksgiving special, food plays the backdrop to the Belchers' antics in Bob's Burgers. For one, Bob speaks to a turkey throughout the episode, naming it "Lance." And Mr. Fischoeder, the Belchers' landlord, asks the Belchers to pose as his family at a Thanksgiving dinner to impress a former girlfriend.
After drinking too much absinthe, Bob becomes jealous of Mr. Fischoeder assuming the role of the father in the Belcher family (while he plays chef). He ruins Thanksgiving and runs away with "Lance." The family eventually comes together to celebrate Thanksgiving at home, realizing Bob's value as a father.
Fresh Off The Boat: "Huangsgiving" (2015)
Jessica hosts both her mother and sister for a Thanksgiving dinner. The meal becomes a disaster as Louis orders Cornish hens for dinner, only to discover they've arrived alive. As dinnertime arrives, the backup turkey is also still raw. The night also becomes a competition among Jessica and her sister, both of whom are desperate to impress their mother,
The episode becomes a learning lesson for Jessica, who discovers her sister is enduring a divorce and is entitled to their mother's attention. Jessica buys her sister a turkey deep-fryer, so that she can host Thanksgiving next year — the ultimate present for her struggling sister.
Black-ish: "Auntsgiving" (2016)
In Black-ish's third season Thanksgiving special, Ruby prepares a dessert for the celebration before experiencing a chill in her spine, an omen that something bad is about to happen. "This is something else," she tells Dre and Rainbow, as a storm brews behind her. "Something evil." Accordingly, Pop's older sister and Ruby's longstanding nemesis, Auntie V., shows up at their front door for the big celebration, unannounced.
Around the dinner table, Ruby and Auntie V. finally reconcile over issues of Ruby's divorce, the cause of the tension. Soon, the family gathers to celebrate the holiday with an assortment of dishes including stuffing, green beans and sweet potatoes.
Master of None: "Thanksgiving" (2017)
In Master of None's Emmy-award winning Thanksgiving special, the episode follows Denise's family dinner across 22 years. Throughout the years, we witness Denise's mother preparing classic Thanksgiving dinners of turkey and mac and cheese. Michelle, Denise's on-again, off-again girlfriend, brings an expensive bottle of wine to impress Denise's family and both Michelle and Denise's mother bond over preparing a turkey. The episode becomes a story of both forgiveness and mutual understanding.
According to co-writer of the episode and actress Lena Waithe, the Thanksgiving dinners are partially based on her own coming out experience. "I think there's definitely a difference between myself and Denise, and I try to separate her because we're so intertwined, but because that story is so specific to my experience, we leaned into it," Waithe told Vulture. "We don't claim for it to be everyone's story, but I think we really wanted to be vulnerable."
The takeaways
Across 30 years of television, sitcoms have certainly changed, with shows like Master of None experimenting with innovative storytelling. While characters have also become more diverse, the same story of family conflict appears over and over again. And when celebrating a holiday like Thanksgiving, food, above all else, remains the underlying theme that brings everyone back together once again.
But even when we can easily predict an undercooked turkey or that an unannounced party guest will make an appearance, what is it about the holiday special that draws us in every year — and keeps us watching the re-runs? Well, we know exactly what we're getting, much like the appeal of sitcoms in general. The lives of Rachel, Roseanne or Fraser are encapsulated in 22-minute episodes where all problems, whether a longstanding family grudge or a simple slap bet, are often resolved by the episode's final moments. By the next episode, season or holiday special, the disastrous dinner is a distant memory, never to be mentioned again in the utopia of sitcom world. Sitcom storytelling is defined by closure — and isn't that what we all want?