Today in Trump's America: Backlash ensues after Trump criticizes Navy SEAL who took down bin Laden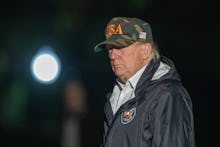 Well, we've made it to another Monday in Trump's America. Mercifully, it'll be a short week as we pause to give thanks (and eat a lot of turkey, stuffing and pie) on Thanksgiving this Thursday. Your newsletter author is already counting down the hours.
Here's what's happening in Trump's America:
• Trump's day begins at 1 p.m., when he and first lady Melania Trump will watch the arrival of the White House Christmas tree.
About the weekend: Democrats lose a Senate seat in Florida, but complete Orange County sweep
More races from the midterm elections were called over the weekend, nearly bringing the election season to a close.
In Florida, a recount did not change the outcome in the state's gubernatorial and senatorial contests: Democrat Andrew Gillum conceded to Gov.-elect Ron DeSantis, while Democratic Sen. Bill Nelson conceded to Sen.-elect Rick Scott.
It's possible poor ballot design in Broward County led to Nelson's defeat, as there was a significant "undervote" — where people voted for governor but not Senate — in that heavily Democratic county, and the election supervisor in Broward, Brenda Snipes, has now resigned.
With Scott's win, Republicans officially netted two seats in the Senate. Given the extremely favorable map the GOP had (Democrats were defending 10 seats in states Trump won in 2016), a two-seat gain is a disappointing outcome for the GOP.
In California, Democrats completed their sweep of House seats in once reliably Republican Orange County after Democrat Gil Cisneros, a military veteran and lottery winner, defeated Republican Young Kim.
After Kim's defeat, Republicans have just one woman in their incoming class of freshmen legislators and no people of color.
Democrats, on the other hand, have at least 36 women and a number of people of color in their incoming class of freshmen legislators in both the House and Senate
Today in Trump's America: Trump under fire for criticizing respected Navy SEAL
Trump likes to tout his support of and from the military wherever he goes, saying veterans are one of the key focuses of his presidency.
Yet in an interview with Fox News, Trump criticized retired Navy Seal Adm. Bill McRaven, who led the mission that successfully killed Osama bin Laden.
"He's a Hillary Clinton backer and an Obama backer," Trump said of McRaven. "And frankly, wouldn't it have been nice if we got Osama bin Laden a lot sooner than that?"
Trump made the comments in an interview with Fox News' Chris Wallace, that aired on Sunday. Wallace was asking about Trump's attacks on the media and brought up that McRaven — a respected admiral — said Trump's attacks on the media are a threat to democracy.
Trump kept interrupting Wallace during the line of questioning, falsely claiming McRaven backed Hillary Clinton (he didn't) and supported former President Barack Obama.
Wallace seemed shocked by Trump's comments.
"You're not even going to give them credit for taking down bin Laden?" Wallace said.
Trump's comments have also drawn condemnation by people on both sides of the aisle.
"Adm. Bill McRaven is a friend & former @WhiteHouse colleague, he is among the finest officers I have had the privilege to work with! This is disgusting!" Frances Townsend, who served in the Homeland Security Department under former President George W. Bush, tweeted. "@POTUS @realDonaldTrump suggests venerated Navy SEAL commander should have found bin Laden faster."
And the rest...
Jim Acosta: The White House told CNN reporter Jim Acosta his press pass will be suspended again after the 14-day temporary restraining order a judge granted on Friday expires, CNN reported.
A federal judge on Friday ordered the White House to reinstate Acosta's press credentials, ruling the White House violated Acosta's Fifth Amendment rights to due process when it yanked his press pass after a contentious post-election news conference with Trump.
The judge, however, did not rule on the claims Acosta's First Amendment rights were violated. Both the White House and CNN were expected back in court this week to discuss further proceedings to determine the permanent status of Acosta's credentials.
CNN blasted the White House's decision to take away Acosta's credential when the temporary restraining order expires.
"The White House is continuing to violate the First and Fifth Amendments of the Constitution," CNN said in a statement. "These actions threaten all journalists and news organizations. Jim Acosta and CNN will continue to report the news about the White House and the president."