Hype Daily: Diddy posts a tribute to ex Kim Porter and more entertainment news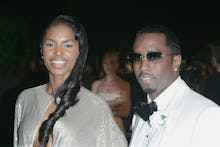 Good morning, Hype Daily readers — hope everyone enjoyed their weekend. Are you all ready for Thanksgiving? I hope so, because it's only a few days away. Now let's take a look at the entertainment news from over the weekend.
Diddy posted a tribute to his late ex, Kim Porter
Sean Combs, aka Diddy, posted a heartfelt tribute to his ex, model and actress Kim Porter, who died on Thursday at the age of 47. Diddy and Porter had a relationship for more than 10 years before ultimately calling it off in 2004, Vulture reported, and the two had three children together.
On Sunday, Diddy posted a video to his Instagram, of old footage of himself with Porter, along with the message, "For the last three days I've been trying to wake up out of this nightmare. But I haven't. I don't know what I'm going to do without you baby. I miss you so much. Today I'm going to pay tribute to you, I'm going to try and find the words to explain our unexplainable relationship. We were more than best friends, we were more than soulmates. WE WERE SOME OTHER SHIT!! And I miss you so much. Super Black Love."
A mini Office reunion happened on Saturday Night Live
The Office reunion that everyone wants to see happened on Saturday Night Live this weekend — well, almost. Steve Carell hosted SNL on Saturday, and, during his opening monologue, former Office co-stars Ellie Kemper, Ed Helms and Jenna Fischer all stood up and told him to do a reboot of The Office — mostly so they could all make a ton of money.
Check out a video of Carell's monologue here. And, by the way, jokes are fine but let's never actually reboot The Office, OK?
The Governors Awards happened on Sunday night
The Governors Awards happened in Los Angeles on Sunday night — the event is essentially adjacent to the Oscars, and honors industry legends who have never officially won an Academy Award by giving them an honorary Oscar. Actress Cicely Tyson, who is 93, was one of the honorees at the event, which isn't televised. "This is a culmination of all those years of haves and have nots," Tyson said as she accepted her statuette, according to the Associated Press.
Film composer Lalo Schifrin and producers Kathleen Kennedy and Frank Marshall, who won the Irving G. Thalberg Memorial award, were the night's other honorees. And, just because the Governors Awards aren't shown on television doesn't mean they don't draw an A-list crowd. According to the AP, Oprah Winfrey, Tom Hanks, Steven Spielberg, Quincy Jones, Harrison Ford, Nicole Kidman and Lin-Manuel Miranda were all in attendance. Fun party!
Your weekend box-office roundup
Fantastic Beasts: The Crimes of Grindelwald dominated the weekend box office, despite crummy reviews. It earned $62.2 million in ticket sales in the U.S. and Canada, according to the Associated Press. That's a less impressive opening than its 2016 predecessor, Fantastic Beasts and Where to Find Them, but it's still enough to earn it the number one slot at the box office.
Dr Seuss' The Grinch took the second spot, with $38.1 million, and Bohemian Rhapsody took the third spot, with $15.7 million in the U.S. and Canada.
Put this on your radar: Creed II
Creed II, the hotly awaited sequel to 2015's Creed, hits theaters on Wednesday. The new movie, a continuation of the rebooted Rocky series, brings back Michael B. Jordan as its star, boxer Adonis Creed, the son of Apollo Creed and a protege of Rocky Balboa. In this sequel, he's no longer an aspiring boxer, he's a legitimate champion, and he must face off against Viktor Drago, son of Ivan Drago, who killed his father, Apollo Creed, in the ring. High stakes!
Creed II has been getting solid reviews — Variety called it "a rousing and effective sequel, with a couple of surprise punches and, mostly, a lot of smooth feints and jabs you've seen before." Check out a trailer here.
This has been Hype Daily, Mic's morning entertainment roundup. It's everything you need to catch up on in the entertainment world and what to look forward to today. Want to receive this as a daily email in your inbox? Subscribe here.