Not sure what to stream over Thanksgiving weekend? Try these shows, movies and specials.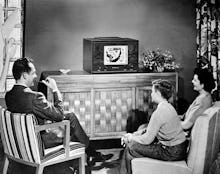 Thanksgiving might be the ideal holiday for watching TV, if your family and friends are into that sort of thing. Think about it: You eat a massive meal, you're probably done eating pretty early and now you need something to do while you're digesting all that turkey and stuffing and pie (or Tofurkey, whatever you prefer).
Luckily, there are lots of great new shows, movies and specials to stream while you decompress from the holiday meal. Here are some options for what to watch while you gather around the television on Thursday.
Dogs (Netflix)
Need something to watch post-Thanksgiving dinner that the whole family — even the furriest members — can enjoy? Then you should probably check out the new Netflix docu-series Dogs, which premiered on the streaming platform on Nov. 16.
The six-episode series is a beautifully shot exploration of the bond between humans and pups, and the stories it tells include a child with epilepsy meeting her seizure alert dog for the first time and a Syrian refugee desperate to be reunited with the husky he had to leave behind in Damascus. Just be warned before you watch this in mixed company — it very well might make you cry.
Dirty John (Bravo)
True-crime podcasts are so popular that it only makes sense they would make the leap to the small screen. The new Bravo series Dirty John, starring Connie Britton (aka Tammy Taylor from Friday Night Lights), is based on a true-crime podcast from Wondery and the Los Angeles Times about Debra, an interior designer who meets John, a handsome doctor, on a dating site.
But John isn't as perfect as he initially appears, and Debra gets pulled into his web of lies and manipulation. Britton stars as Debra and Eric Bana stars as John. The show officially premieres on Nov. 25 on Bravo — but the network has made the first episode available online ahead of the premiere date.
My Brilliant Friend (HBO)
HBO's Italian-language TV adaption of My Brilliant Friend, the first in Elena Ferrante's wildly popular Neapolitan novels, premiered on HBO on Sunday. The eight-episode series follows Elena and Lila, two lifelong friends who grow up together in 1950s Naples.
HBO's adaptation has been getting rave reviews, starting with its showing at the Venice Film Festival, after which Variety called it "a show whose lush production holds within it more than initially meets the eye," and praised the child actors who star as the youngest incarnations of Elena and Lila.
Creed (Hulu)
OK, Creed isn't exactly new, but it's new to Hulu starting Monday, which means you can watch Creed and then head out to catch its follow-up, Creed II, in theaters starting Wednesday. Creed, which came out in 2015, introduced Michael B. Jordan as Adonis Creed, the son of Apollo Creed from the original Rocky movies and an aspiring boxer in his own right. It was also directed by Ryan Coogler, who frequently works with Jordan, including in 2018's Black Panther.
Creed saw its main character turn to his father's former rival, Rocky Balboa, for help getting a footing in the world of boxing. If you're planning on seeing Creed II in theaters this holiday, why not turn it into a marathon?
Trevor Noah: Son of Patricia (Netflix)
Daily Show host Trevor Noah has a new stand-up special out on Tuesday — his second standup special on Netflix, after 2017's Afraid of the Dark. According to the official Netflix description, "Noah gets out from behind the Daily Show desk and takes the stage for a stand-up special that touches on racism, immigration, camping and more." Hey, this new special could be a lighthearted way into some complicated issues with your family this Thanksgiving — go ahead and try it.
The Princess Switch (Netflix)
As soon as Thanksgiving is over, we're on to the next round of winter holidays, and what better way to get in the mood than with The Princess Switch, a delightfully cheesy-looking Netflix rom-com where Vanessa Hudgens plays two identical people who have to pretend to be each other.
According to the official Netflix description, "One week before Christmas, Margaret, the gorgeous Duchess of Montenaro, switches places with Stacy, a 'commoner' from Chicago, who looks exactly like her. With the assistance of a magical Santa's helper, Margaret falls in love with Stacy's handsome co-worker, while Stacy falls in love with Margaret's fiancé, the dashing prince."
A magical Santa's helper! The trailer seems like this movie will have lots of wacky hijinks, people falling in love very quickly and a fake European country. What could be better? The Princess Switch premiered on Netflix on Friday, so it's available to stream now.