Senate Democrats file lawsuit to block Matthew Whitaker from serving as acting AG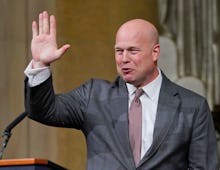 A trio of Senate Democrats will file a lawsuit alleging that Matthew Whitaker's appointment as acting attorney general is unconstitutional, and as such Whitaker must be removed from the role President Donald Trump handed him on Nov. 7, the Daily Beast reported.
The lawsuit is being filed by Democratic Sens. Richard Blumenthal of Connecticut, Mazie Hirono of Hawaii and Sheldon Whitehouse of Rhode Island, according to the Daily Beast. All three are members of the Senate Judiciary Committee, which is tasked with holding confirmation hearings for the attorney general role.
The senators are arguing that because Whitaker was never approved by the Senate, he is constitutionally barred from serving as acting attorney general — a role Trump appointed Whitaker to after he fired Jeff Sessions.
"Installing Matthew Whitaker so flagrantly defies constitutional law that any viewer of Schoolhouse Rock would recognize it," Blumenthal said in a statement, according to the Daily Beast. "President Trump is denying Senators our constitutional obligation and opportunity to do our job: scrutinizing the nomination of our nation's top law enforcement official. The reason is simple: Whitaker would never pass the advice and consent test. In selecting a so-called 'constitutional nobody' and thwarting every Senator's constitutional duty, Trump leaves us no choice but to seek recourse through the courts."
This is not the only lawsuit against Whitaker's appointment.
The state of Maryland is suing to have Whitaker removed and be replaced with Rod Rosenstein, who as deputy attorney general is Senate approved and was the second in command to Sessions. PEN American Center also filed a lawsuit challenging Whitaker's appointment.
The Department of Justice, for its part, has argued that Whitaker is able to serve in the role.
"Consistent with our prior opinion and with centuries of historical practice and precedents, we advised that the president's designation of Mr. Whitaker as acting attorney general on a temporary basis did not transform his position into a principal officer requiring Senate confirmation," Assistant Attorney General Steven A. Engel wrote in a memo.
Democrats have railed against Whitaker since Trump appointed him to the role, saying that Whitaker — who has publicly and forcefully criticized special counsel Robert Mueller's investigation — was chosen to thwart the Russia investigation.
"The biggest flaw, from my point of view, is that he was chosen for the purpose of interfering with the Mueller investigation," Rep. Adam Schiff (D-Calif.), the soon-to-be chair of the House Intelligence Committee when the new Congress is sworn in in January, said Sunday on ABC's This Week.
Whitaker is also under fire for being part of a company that the Federal Trade Commission shut down in 2017 for being a scam.