How to be less of a garbage person: A guide to recycling your holiday gift packages and Amazon boxes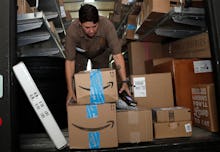 There's no question that Amazon and other online retailers will be offering major Black Friday and Cyber Monday deals. In 2017, Cyber Monday sales broke records, with $6.59 billion spent in the single day, CNBC reported. Amazon accounted for an estimated 42% of all those sales, according to market research firm Slice Intelligence. With the added benefit of being able to shop in your pajamas, not having to wait in line or risk the chance of being trampled in a store, the sales might feel irresistible to consumers.
But it's not all fun and games — and free shipping — when it comes to online shopping during the holidays. "It seems that, here in the U.S., we're so focused on convenience that the sustainable component goes out the door," Jeremy Walters, community relations manager for Republic Services, a waste disposal company, said over the phone.
When you order something online, the package contains a whole lot more than what you added to your virtual shopping cart. From Thanksgiving to New Years, there's about a 25% increase in garbage generation in the U.S., Walters said. That's about 1,000 extra pounds of waste per household, he added. But it doesn't have to be this way. "A tremendous amount of waste, about 80% of it, could be recycled, reused or repurposed for a more sustainable use," Walters said.
Cardboard boxes
Amazon's cardboard box is recyclable — it's "about the only component of your online shopping that is readily accepted in any curbside program," Walters said. Still, in order to be recycled, the boxes have to be properly handled by consumers. Walters said they can have a minimal amount of tape on them, but "if you're willing to remove the tape, it's better for the recycling process as a whole."
Bubble wrap, bags and other plastic packaging
Less straightforward is what to do with the packaging components inside the Amazon box. Plastics made of low-density polyethylene (known as LDPE), like air-filled plastic pillows, bubble wrap, shrink wrap and plastic bags, cannot be recycled with the more rigid plastic that makes items like water bottles and disposable food containers.
You thought you could just mix plastic shopping bags and plastic water bottles? It's not really your fault. "We've been so falsely trained — we see a recycling symbol [and] we think it warrants going in the curbside recycling bin," Walters said. But the truth is, these types of flimsier materials are disastrous for the recycling process: They get caught in machinery and can "tremendously damage equipment" while rendering the whole recycling process less efficient, said Walters. He made it sound as though every time a plastic bag is mixed in with other plastics, a waste management facility employee weeps.
Instead of putting plastic bags and packaging pieces with the rest of the recycling, these can either brought to drop-off stations — often in grocery stores and sometimes at post offices — or tossed in with the rest of the trash, which will ultimately end up in a landfill, where it can take up to 500 years to decompose. The second option is not ideal, but it's better than mixing it with the other recycling, said Walters.
Gifts bags and wrapping paper
Packing peanuts, paper envelopes with plastic lining, glitter-laden wrapping paper, paper gift bags with bells and whistles, ribbon, textiles — none of these are accepted by traditional recycling programs. Mixing them in with standard recyclables, again, creates problems at the facilities. Throwing them in the garbage will get rid of them, but a better option, Walters said, is to reuse them.
Regifting gets a bad rap, but reusing materials is actually thoughtful: A festive gift bag that brought you joy is just as likely to make a friend happy. If a family member thoughtfully sends a package filled with seemingly infinite packing peanuts that stick to your clothes, consider it an open invitation to send those irksome little materials back when it's their turn to receive a gift. Wrapping paper can be crumpled up to create padding for shipping items and plastic bags can be inflated for extra precaution. Following these efforts to better manage waste does not mean you have to be a hoarder: Choose to buy fewer (or none!) of these items, reusing what you already have. No one's going to complain if their gift is wrapped in newspaper instead of a seasonally appropriate paper, and if you're crafty you might get creative with printed images and magazine cut outs.
Frustration-free packaging
Lastly, when you do inevitably purchase something on Amazon, check to see if the items come with a "frustration-free packaging" option. Since 2008, the online retail giant has been certifying products to arrive to consumers with less packaging and in 100% recyclable materials. Extras like plastic bindings, wire ties and clamshell casings are eliminated with the option. Some products can be shipped in their original box, rather than being placed in an additional Amazon-branded one. Over the past 10 years, the program has avoided using 500 million shipping boxes and eliminated 244,000 tons of packaging materials, according to the site.