What does it mean that nearly 1,000 people are still "missing" in the California wildfire?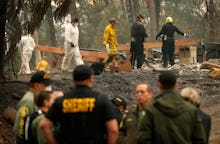 The Camp Fire in Northern California, one of two wildfires ravaging the state, has become the deadliest fire in California history, killing 77 people as of Sunday.
In addition to the confirmed deaths, nearly 1,000 still remain missing. The Butte County Sheriff's Department confirmed 993 missing people Sunday, lowering a previous count of 1,202.
But what does that statistic actually mean? The wildfire has ripped through 150,000 acres of Butte County and destroyed nearly 13,000 structures, at one point spreading at the rate of one football field per second. The fire is 65% contained and is expected to be fully contained by Nov. 30, according to authorities cited by NPR.
The staggering length of the missing person list has been partially attributed to clerical errors and the overall chaos surrounding the wildfires. According to the New York Times and the Los Angeles Times, the list includes every person reported as missing in a 911 call to the Butte County Sheriff's Office, including when the fire first began, and names are also being compiled using calls to the missing person hotline and emails to the sheriff's office.
As a result, the list includes duplicate names and people who aren't actually missing, but may simply have unreliable cell phone service or be unaware that family members or friends are looking for them.
"I want you to understand that there are a lot of people displaced, and we're finding that a lot of people don't know that we're looking for them," Butte County Sheriff and Coroner Kory Honea said, CNN reported.
For instance, Carmen and Tim Titus ended up on the list despite living in Portland, Oregon — the couple also maintains a residence in the now-devastated Paradise, California.
"Obviously, I am not missing," Carmen Titus told the LA Times. "We don't know how our name got on that list. But we are OK."
Authorities are going through shelters and tent camps to check evacuees' names off the missing persons list, the LA Times reported. Those whose loved ones have been found safe or were reported missing in error should call the Butte County Sheriff's Office, the agency said on its website.
"If you see anyone on the list who is no longer missing please contact us so their name can be removed," the website reads. "Staff working the Missing Persons Task Force can be reached at: 530-538-6570, 530-538-7544, 530-538-7671."
NBC News noted Saturday it had been more than a week since anyone was found alive in the Butte County fire zone, and searchers combing through the area are now only finding human remains.
"We already know that his house has been burned down and his car was in his garage," Sadia Quint told CNN on Sunday about her uncle who remained missing. "So now we're just waiting for the sheriff's department to go out there and let us know if his body's in there or not."
It is still unclear how the missing persons list will reflect the final death count; the LA Times reported it took authorities weeks to sort out a missing persons list from a 2017 fire in Northern California, which was significantly smaller than the Camp Fire. Though that list initially included over 900 names, more than 40 people died in the fire and everyone else was accounted for.
For those who know potential victims of the fire the wait can be agonizing. Paradise resident Maurine Johnson told the LA Times the uncertainty of not knowing whether friends had survived was as bad as knowing they had been killed by the fire.
"I'm sick of platitudes, of people saying, 'Something good will come of this,' or 'God has a plan,'" Johnson told the LA Times. "Shout it out if you've got a plan, God. I don't see it."