Trump doubles down on criticism of military for not capturing Osama bin Laden sooner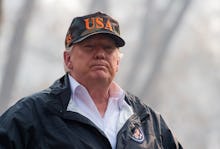 President Donald Trump is doubling down on his criticism of a decorated Navy Seal who led the successful mission to take down 9/11 mastermind Osama bin Laden, saying on Monday that bin Laden should have been captured "long before" the United States got him.
Trump's comment comes as he finds himself under fire for attacking retired Adm. Bill McRaven, who successfully led the effort to take down bin Laden. Trump told Fox News' Chris Wallace that McRaven is a Hillary supporter who should have captured bin Laden "a lot sooner" than he did.
Despite the criticism, Trump is not backing away from that sentiment.
"Of course we should have captured Osama Bin Laden long before we did," Trump tweeted Monday morning. "I pointed him out in my book just BEFORE the attack on the World Trade Center. President Clinton famously missed his shot. We paid Pakistan Billions of Dollars & they never told us he was living there. Fools!"
Trump's claim in his 2015 book that he called on the U.S. to "take out" bin Laden in 2000 — before the 9/11 attack — was rated "mostly false" by Politifact.
The entire brouhaha with McRaven and bin Laden was sparked when Wallace asked Trump to defend his attacks on the media. In doing so, Wallace brought up McRaven, who has said that Trump's attacks on the free press were "the greatest threat to democracy."
When Wallace brought that up, Trump began making baseless claims about McRaven, calling him a Hillary Clinton supporter, as if that prohibits a decorated military veteran from expressing his opinions.
McRaven, for his part, is defending his own criticism of Trump's anti-press statements.
"I did not back Hillary Clinton or anyone else," McRaven said in a statement to CNN's Jake Tapper. "I am a fan of President Obama and President George W. Bush, both of whom I worked for. I admire all presidents, regardless of their political party, who uphold the dignity of the office and who use that office to bring the nation together in challenging times."
McRaven continued, "I stand by my comment that the president's attack on the media is the greatest threat to our democracy in my lifetime. When you undermine the people's right to a free press and freedom of speech and expression, then you threaten the Constitution and all for which it stands."