Amazon's Long Island City deal surprised local organizers. But they are ready to keep fighting.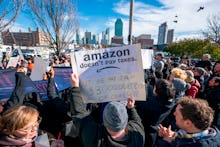 Peter Johnson, a resident of Long Island City in Queens, New York — where Amazon will soon establish one of two new corporate headquarters — moved to the neighborhood more than a decade ago, when it consisted of mainly homeowners and families who frequented local businesses and convened at local parks.
Today, Johnson and other members of the Long Island City Coalition, which was already pushing back against uncontrolled high-rise developments in recent years, are alarmed by New York's deal with Amazon. The tech company's anticipated arrival heightens pre-existing anxiety about outside developers taking over.
"In the past decade, what has changed ... is you didn't have these monster 60- to 70-story-tall buildings casting a shadow in every place," Johnson said.
Amazon announced Nov. 13 it would build a 4- to 8-million-square-foot campus on the Long Island City waterfront alongside the East River and across from midtown Manhattan. Amazon also plans to build a headquarters in Arlington, Virginia.
The announcement came after a monthslong battle against the Seattle City Council, which planned to impose a "head tax" of $275 per employee on Amazon and other Seattle businesses grossing more than $20 million a year. The council passed the bill in May, but reversed its decision in June after pressure from businesses, USA Today reported. The money would have gone toward affordable housing and health services; Amazon is often cited as a contributor to rising rent costs, homelessness and increased congestion on Seattle's public transportation.
It's worth noting that Amazon, which has also received negative attention for poor working conditions, allegedly suppresses union organizing activities. Workers in Poland, Spain and Germany have gone on strike to protest for better treatment.
In Long Island City, residents are already vulnerable to these issues. There are at least four high-rise developments in the works, many of which come with sky-high rents local residents can't afford. For instance, the Jackson Park building, which is already open, offers monthly studio rents ranging from $2,575 to $3,018, according to listings on its site. But a 2017 RentHop study found the median income for the Queensbridge-Ravenswood-Long Island City neighborhoods was just $28,378.
Prior to Amazon's announcement, the Queens Anti-Gentrification Project was working to educate residents about what they call the "Queens Triple Threat," Bob Lee, an organizer with the project, said. "There are three things we've been fighting against consistently for the past 2 1/2 to three years," he said in a phone interview.
The Queens Anti-Gentrification Project is advocating against the rezoning of Long Island City, which would further open the door to the development of high-rise buildings and the incoming Amazon headquarters; the BQX, a proposed streetcar line that will run through Brooklyn and Queens; and the massive mixed-use development known as Sunnyside Yards, which could include up to 24,000 additional homes, Curbed reported in May.
From luxury apartment buildings to Amazon, local organizations see these issues as a political problem driven by private capital.
"We had no clue that Amazon was coming ... they just dropped it out of nowhere," Lee said. "Actually, a lot of politicians knew about it. Politicians in New York City were courting Amazon last year. Everyone knew about it except for the people."
"This was a secret deal that was made without any transparency," Johnson stated. "No community involvement."
New York Gov. Andrew Cuomo and New York City Mayor Bill de Blasio reportedly focused on job creation as the primary reason for courting Amazon.
"Either you're part of the economy of tomorrow or you're part of the economy of yesterday," Cuomo said at a press conference Nov. 13. "This is a competition, and for us it's about being part of the economy of tomorrow. And Amazon, no doubt, is a big, big asset in the entire tech space."
De Blasio echoed a similar statement, saying Amazon's business will provide opportunities especially to those in Queensbridge, home to the largest housing project in the United States, as well as students at New York City public schools and community colleges. Residents of Queensbridge are skeptical about the deal, according to reports in the New York Times and Spectrum News NY1.
"I hear every day. Every day New Yorkers, folks who live in public housing, saying, 'Where can I get a job?'" de Blasio said at a press conference on Nov. 13. "Where can I get an opportunity? Kids who are in our public schools who want to get in to the tech community. Students at [City University of New York], students who have just graduated from CUNY who are looking for that opportunity. This is going to open the doors for all of them."
Amazon has promised to create 25,000 jobs in Long Island City over the next decade, each with an average salary of about $150,000. There will also be tens of thousands of additional job opportunities for construction and ongoing operations. Additionally, the company plans to invest in sites for a new public school, a tech startup incubator, space for use by artists and industrial businesses and green spaces open to the public.
But Lee and Johnson said current residents of both Long Island City and the surrounding neighborhoods such as Astoria and Sunnyside, don't think they fit into the picture Amazon is trying to sell.
"The jobs aren't here for us," Lee said. "They are not going to bring in the best and the brightest of Queens to work there. They're going to bring in the best and brightest in the world to work there, because it's Amazon. They're going to import a workforce. We're not really interested in attacking the people that move here — although people can be complicit in gentrification — but we're more so concerned about the wealth that is being brought in structurally."
The most important issue people need to understand is that local politicians are the ones bringing Amazon there, Lee added.
"They're responsible for this and we want them to be held accountable for courting them, for urging them in their own words," he said.
Both Jimmy Van Bramer — who represents Astoria, Long Island City, Sunnyside and Woodside on the New York City Council — and state Sen. Michael Gianaris showed support for New York City's bid to Amazon in October 2017.
But on Wednesday, Van Bramer and Gianaris expressed anger about how the deal was carried out, pointing to the $3 billion in tax subsidies Amazon CEO Jeff Bezos will receive from the city and state.
"The governor and the mayor conspired secretly to cut a deal with Jeff Bezos to the exclusion of everyone else," Van Bramer said at a rally protesting the deal, Curbed reported. "This is the ultimate case of 'three men in a room.'"
Before the deal was made, Van Bramer stated that it should be subject to New York City's Uniform Land Use Review Procedure, which requires certain land use decisions to be reviewed by the City Planning Commission.
"I call on @NYCMayor to reject the @NYGovCuomo's desire to bypass ULURP, the local Community Board, the Borough President, City Planning and yes, the local Councilmember & @NYCCouncil," Van Bramer wrote on Twitter on Nov. 9. "The Mayor must not be a party to his undemocratic process."
But this doesn't mean Van Bramer and other Queens officials calling for a public review process want to see the Amazon deal called off, Lee said. The Queens Anti-Gentrification Project and other organizations, like the Queens Neighborhoods United, aren't interested in compromising.
"We will not negotiate our survival and we'll do everything in our power to shut them down," Queens Neighborhoods United said in a statement. "Our line is clear, fast and unflinching. We will make it impossible for them."
Johnson said the Amazon deal is a test of whether politicians put citizens' concerns first.
"If the politicians don't respect the desires of the populations, then you get rid of them," Johnson said. "And the test will now be whether there is any serious reform done in Albany, let alone Washington. And if there is no serious reform done, then we're going to continue to have large corporations dictate what happens to the population."
Correction: Nov. 21, 2018