Detroit is quickly becoming a great food city — and there's something for every budget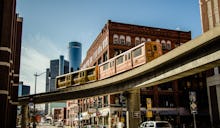 From Motown and techno to cars and traffic lights, Detroit has made many contributions to modern American society. And there are many reasons to take a trip to the Motor City: It's got world-class museums such as the Detroit Institute of Arts, trails and waterways for outdoor enthusiasts and, most recently, legalized recreational marijuana.
It's also given the world iconic dishes such as square pizza and Asian corned beef, an Asian fusion take on a Reuben sandwich you probably never thought you needed — until you try one. Just next door is Dearborn, where there are endless options for delicious and traditional Middle Eastern food. Detroit itself is home to Eastern Market, one of the country's oldest public year-round markets. On Saturdays, you can buy fresh fruits and vegetables, check out the street performers and feast on barbecue while belting out your favorite karaoke song at Bert's Marketplace.
In short, Detroit has always had good food. But the food scene has been evolving and growing in recent years, making the city a must-visit destination for travelers who live to eat. In terms of accommodations (budget-friendly and charming Airbnbs abound, and there are a couple of hostels) and travel costs (Detroit Metropolitan Airport is one of the busiest transportation hubs, so cheap flights are easy to find), Detroit is relatively easier on the wallet — which means more money for food.
The city is raising the bar with restaurants opening at a fast and furious pace. Several local chefs have been garnering semifinalist nods from the James Beard Foundation, and Kate Williams from Lady of the House was among 2018's best new chefs in Food & Wine magazine. The urban agriculture scene continues to flourish, nourished by young farmers who are dedicated to not just growing organic kale and apples, but also to creating a healthier city that increases access to all Detroiters. Lauded chefs are coming home to open restaurants, such as Mike Ransom, chef at Japanese-inspired eatery Ima, and Max Hardy, who opened River Bistro on the northwest side and Coop in the Detroit Shipping Company, a new food hall in Midtown. Even chefs who aren't from here are setting up shop; Chicago's Thomas Lents came to the Motor City to open the Apparatus Room at the Foundation Hotel in 2017.
The Apparatus Room is just one of several restaurants to open in boutique hotels in recent years. A two-time James Beard semifinalist, Garrett Lipar recently opened the intimate tasting-menu restaurant Albena at the Siren Hotel, which also has a posh craft cocktail bar called Candy Bar. The latest hotel to get into the food-and-drink game is the upcoming Shinola Hotel, a joint venture between high-end watchmaker Shinola and Dan Gilbert's real estate firm Bedrock, which has transformed much of downtown. It's also bringing in some outside talent: Restaurateur Andrew Carmellini will oversee the hotel's Italian restaurant, beer hall and cocktail bar.
The must-try dish
You need to try a coney — a hot dog topped with beef chili, mustard and onions — and you need to try it from two different places: American Coney Island and Lafayette Coney Island, two adjacent greasy spoons in downtown Detroit. Vegan? No problem. Chili Mustard Onions can help you get your plant-based coney fix.
Insider intel
It can be hard to get around without a car — Detroit is about 140 square miles, and public transportation isn't as robust as other large U.S. cities. Speaking of the city's size, there's more to Detroit than Midtown, Corktown and downtown. Make sure to visit other vibrant and historical neighborhoods while you're here, such as Grandmont Rosedale, Southwest Detroit and University District, just to name a few.
Give back to the community
Some great ways to give back are by supporting one of Detroit's social entrepreneurial ventures, such as buying graffiti jewelry from Rebel Nell — which helps women overcome barriers to employment — or by attending a Detroit Soup event where people pitch their ideas and the winner walks away with the door proceeds.
For more of Mic's Best Places to Travel in 2019, explore our map or view the complete list here.